Got Laos on your travel itinerary this year, you're still unsure about the best connectivity option to get an ETL SIM Card & eSIM?
Stay here with us, we will help you decide.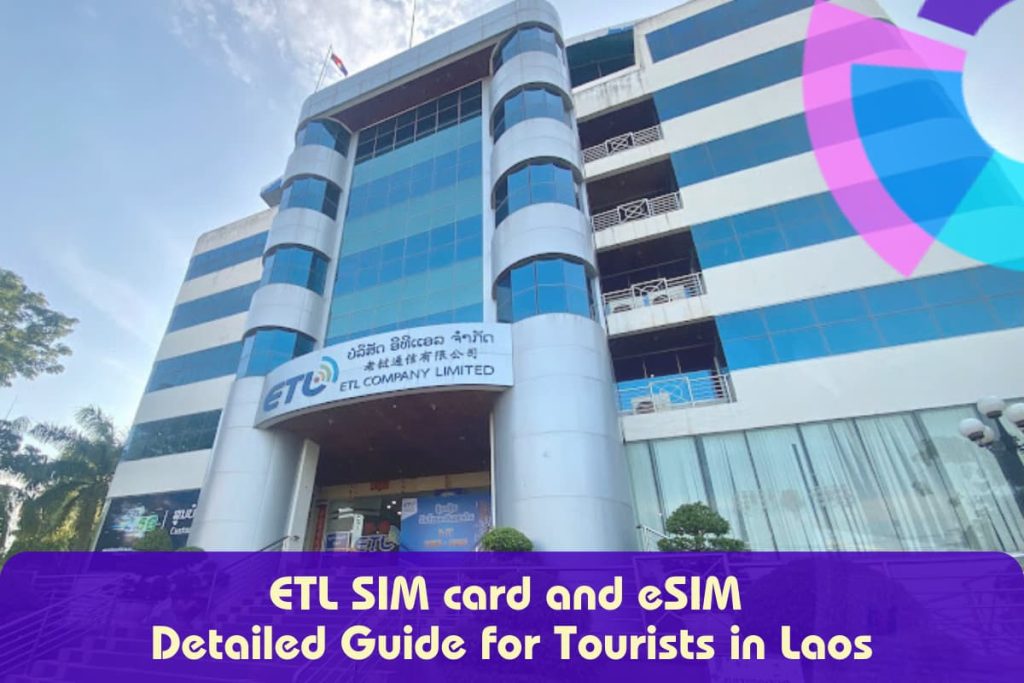 Table of Contents
I. Quick facts about ETL
ETL operates as the third largest telecom with a growing mobile division focused in major urban centers of Laos for now.

Here are some interesting facts about this brand
Established: 1996
Ownership: ETL is fully owned and operated by the Laos government
Roaming: Partnership with other operators enable international incoming calls and limited data roaming in select country
Number of Subcribers: Over 3 millions mobile subscribers in 2022
Service: Beyond mobile, ETL provides fixed line telephony, FTTH broadband internet, business solutions and education programs nationwide
Competition: ETL competes with Lao Telecom and Unitel as the third national operator expanding mobile infrastructure
II. ETL Coverage and Speed in Laos
ETL has grown rapidly since 2010 to become one of the 4 mobile operators providing affordable mobile services in Laos. Its coverage is stronger in major urban areas, estimated at over 80% of Lao's population.
1. ETL Coverage in Laos
You can check out their coverage map below: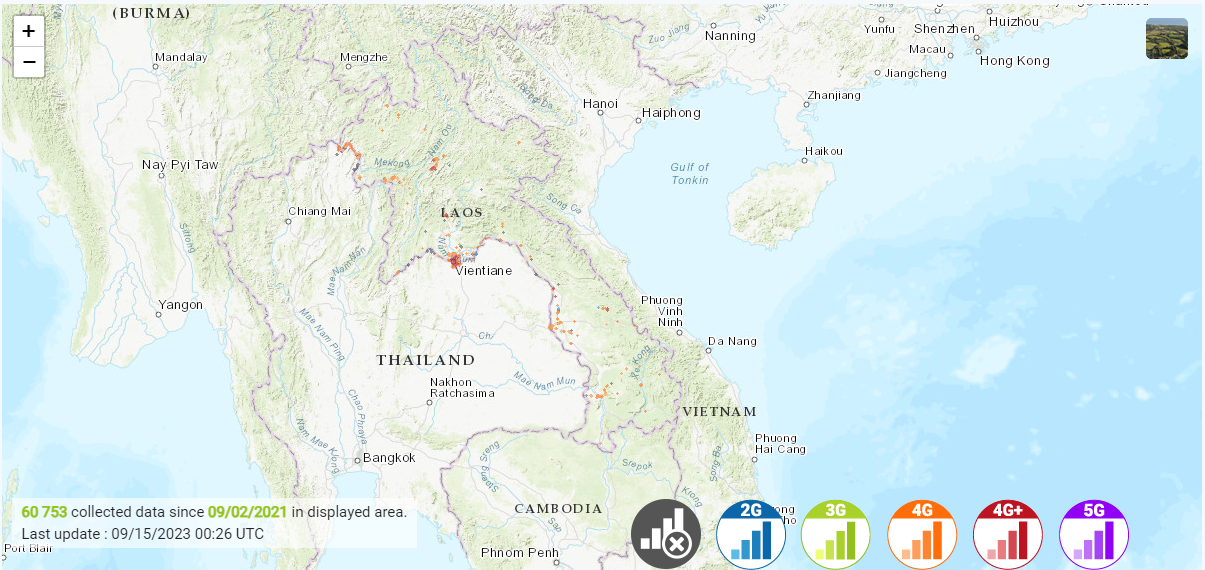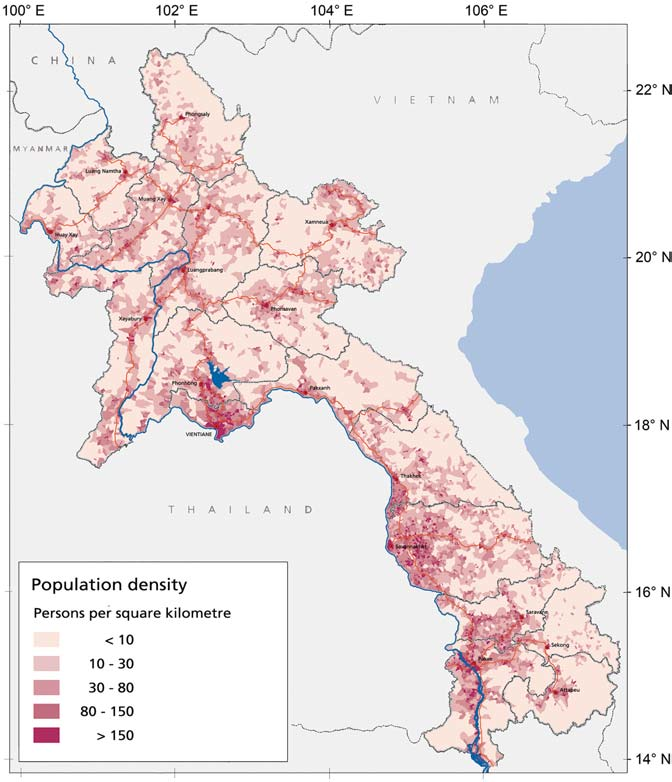 According to this maps, ETL provide nationwide 4G/LTE network covers almost all major cities and towns in Laos, including Vientiane, Luang Prabang, Savannakhet, and Pakse. However, 5G is currently not available for now, and its network coverage in rural areas may not be as comprehensive compared to other mobile operators in Laos.
2. ETL Speed in Laos
ETL Company Limited is an internet service provider which operates in Lao people's Democratic Republic. Currently it ranks on the place 3 from 8 providers in Laos
You can check the average result for ETL below:

With Download Speed is 15.1 Mb/s and Upload Speed is 0.21 Mb/s, so common browsing, email and social activities are well- supported on ETL's average speeds. However, heavier streaming may encounter delays away from major city coverage zone. Speed and responsiveness also depends on the specific site/app.
👉In short: If you are traveling only major cities in Laos, using ETL services might be a cost-saving option. But in case you want to discover the remote or rural areas in Laos, this mobile operator is not highly recommended.
III. ETL Connectivity Options for Tourists
ETL has got you covered with some awesome ways to stay connected like SIM card, Pocket Wifi and Roaming. Check out these options:
So you can see, in case you decides to connect to ETL network for your travel, SIM cards are the cheapest and most convenient option.
Connectivity Options
| | | | |
| --- | --- | --- | --- |
| Option | Description | Unitel Advantage | Potential Limitation |
| SIM Card | Pay-as-you-go data packages | Fastest 4G speeds for streaming/downloads | Cellular connection limits speeds |
| | From $3 for 1GB | | |
| Pocket WiFi | Rental WiFi hotspot | Sharable internet for all devices | Dependent on cellular signal quality |
| | Plans from $25/month | | |
| Roaming | Travelers can stay in touch easily abroad | No need to insert/add any new SIM, but your primary SIM only | Crazy expensive |
| | | | Unable to control your usage if your primary SIM is post-paid |
IV. Best ETL SIM card and eSIM for Tourists
Luckily that ETL Laos offers both physical SIM and eSIMs for tourists. You can find the best plans below.
1. Best ETL SIM cards for tourists
ETL offers various SIM card options for tourists, ranging from short-term to long-term plans. Here are some of the best ETL SIM cards for tourists and their costs:
Best SIM cards
| | | | | |
| --- | --- | --- | --- | --- |
| Plan | Validity | Data | Price (LAK) | Price (USD) |
| Daily Pass | 1 day | 500MB | 15,000 kip | $1.15 |
| Weekly Pass | 7 days | 1GB | 35,000 kip | $2.69 |
| 15 Day Pass | 15 days | 3GB | 50,000 kip | $3.85 |
| 30 Day Pass | 30 days | 5GB | 100,000 kip | $7.70 |
| Flexi Load | - | Calls/SMS | 10,000 kip | $0.77 |
| Data Add-On | - | Varies | 10,000-30,000 kip | $0.77-$2.30 |
The 15 Day Pass with 3 GB data, valid for 15 days is highly recommend for tourist. It would suit most travelers needs on cost and validity while 30 Day Pass is best choice for long trips
ETL also offers postpaid plans as an alternative to their SIM cards, which called Happy Plus and come with either 1GB, 3GB or 5 GB monthly data allowance. However, prepaid services tend to provide better value for money for casual travelers compared to commitments. Coverage is also more reliable for prepaid users
So, while ETL postpaid is an option, their prepaid plans are still likely the most suitable choice for visiting tourists in Laos.
2. ETL eSIM plans
ETL also offers eSIMs for tourists who prefer a digital SIM card instead of a physical one. ETL's eSIM plans are similar to its traditional SIM cards, but they require an eSIM-compatible device. You can check some of the best ETL eSIM plans:
Best eSIM
| | | | | |
| --- | --- | --- | --- | --- |
| Plan | Data | Validity | Price | Best For |
| ETL eSIM 3GB - 7 days | 3GB | 7 days | $16 | Short trips 1 week or less |
| ETL eSIM 5GB - 14 days | 5GB | 14 days | $19 | Trips 1-2 weeks |
| ETL eSIM 10GB - 30 days | 10GB | 30 days | $26 | Long trips 1 month+ |
In summary, ETL network expanding but these plans offer flexibility. The ETL eSIM plans are tailored to different travel durations and budgets needs. The 10 GB, valid for 30 days package offers the strongest value for longer trips to Laos
V. Where to buy an ETL SIM card and eSIM?
1. Where to buy an ETL SIM card
Airport: Only Vientiane International Airport has a reliable ETL SIM purchasing facility. Luang Prabang and other airports require visiting a town, city ETL store after arriving. So, if you want to connect right away, having a SIM delivered before travel is a better option for tourists.
ETL stores: You can find it in the capital cities, just google maps and find the nearest for you. ETL stores will have full range of plans, bundles and current promotions available for tourists, it would most suitable for who want to have more options for choosing.
Mobile shops: There are also many mobile shops across Laos that sell ETL SIM cards. These shops are usually located in shopping malls or near tourist attractions.
2. Where to buy an ETL eSIM
The best place to buy a ETL eSIM is to get it online and the best time is before your departure. Once you land, you can connect to network.
ETL offers an online platform etl.com, where you can purchase its eSIM plans. You will need to provide your device's IMEI number and other details to activate your eSIM.
Here are the steps to buy an ETL eSIM online
Choose a Plan: Visit ETL's website or partner sites and select an eSIM plan. Top up options range from 1 day to 1 month usually.
Confirm Purchase: You'll receive an order confirmation email along with activation instructions.
Download Profile: Before travel, download the generated eSIM profile file (.icd or .esim depending on device brand).
Install on Phone : On arrival, refer to device settings to add the eSIM profile via Bluetooth/WiFi/USB cable. Activate cellular data.
Receive SMS: An SMS confirming SIM activation will be sent. You can now use mobile internet/data right away!
Buying online saves the hassle of visiting stores. Just ensure you download the profile in advance. ETL provides 24/7 help to resolve any activations problems faced by international travelers.
Or you can also buy it in ETL Stores, they has several physical stores across Laos where you can purchase its eSIM plans. You can find these stores in major cities like Vientiane and Luang Prabang
VI. How to Activate ETL Laos SIM card/ eSIM
Once you have purchased your SIM card or eSIM, you will need to set up and activate it before using it.
Let's take a look at how to activate it
1. How to Use Tourist ETL Laos SIM
To use your ETL SIM card, follow these steps:
Insert your ETL SIM card into your mobile device
Turn on your mobile device and wait for the network to connect
Your ETL SIM card should now be activated and ready to use
You can then top up your ETL account by purchasing top-up cards or via the ETL mobile app.
2. How to Set Up and Activate ETL Laos eSIM
To set up and activate your ETL eSIM, follow these steps:
Purchase an ETL eSIM plan either online or at an ETL store
Follow the instructions provided by ETL to scan the QR code and activate your eSIM
Once activated, you can start using your ETL eSIM for calls, SMS, and data.
Please check your detailed instructions below:
VII. Call & SMS Rates of ETL in Laos
ETL offers affordable call and SMS rates for both domestic and international call. Here's a quick summary of ETL's call and SMS rates:
Call & SMS Rates
| | | |
| --- | --- | --- |
| Call/SMS Type | Rate (LAK) | Rate (USD) |
| Calls to ETL numbers | 15/min | $0.01 |
| Calls to other Lao networks | 20/min | $0.013 |
| SMS to Lao numbers | 15/SMS | $0.01 |
With international call and SMS, rates vary depending on the country.
Here are samples call on ETL's network when calling popular international destinations from Laos
| | | |
| --- | --- | --- |
| Country | Rate/Minute (LAK) | Rate/Minute (USD) |
| Thailand | 100 | 0.07 |
| Vietnam | 150 | 0.10 |
| China | 300 | 0.20 |
| USA | 1000 | 0.67 |
| UK | 1500 | 1.00 |
| Australia | 1500 | 1.00 |
Tourists are recommend to buy data only eSIM plans and use apps like WhatsApp, Facebook Messenger for free calling/ messaging over cellular data.
VIII. How to Top-up your ETL SIM card
To top up your ETL account, you can purchase top-up cards from convenience stores or mobile shops across Laos. Alternatively, you can top up your account via the ETL mobile app or by dialing *102# and following the instructions.
Please check some of the top-up options available for ETL SIM cards:
Top-up ETL SIM
| | | |
| --- | --- | --- |
| Top-Up Amount | Data Allowance | Validity |
| LAK 10,000 ($1.10) | 1 GB | 7 Days |
| LAK 20,000 ($2.20) | 2 GB | 15 Days |
| LAK 50,000 ($5.50) | 6 GB | 30 Days |
IX. How to Check ETL Balance
To check your balance, here are a few ways tips for you to check their ETL prepaid balance in Laos:
– By dialling *121# from their ETL number
– By sending an SMS with the text "BAL" to 1250
– Through the ETL mobile app – Download from app stores and login
– At physical ETL stores – Representatives can check balance for you
– On the ETL website – etllao.com – Select "Check Balance"
– By topping up – Entering top up PIN shows current balance
To use the USSD
USSD Codes
| | |
| --- | --- |
| USSD Code | Description |
| *121# | Check Balance |
| 1234# | Data usage status |
| 1231# | Call usage status |
| 1232# | Call settings |
| 1233# | SMS usage status |
| *101# | Call customer service |
| *100# | Network information |
| 1321# | Change bundle |
💡Good to know: Checking balance regularly helps keep track of remaining credit and data to avoid unwanted charges while on ETL network in Laos.
X. ETL Alternatives for Tourists
As mentioned above, ETL might be a good choice for tourists who travel within major cities or urban areas. But the thing is different when you want to deep yourself in countrysides or remote areas of Laos. In this case, a Unitel SIM Card/esim should be a better choice.
Ranked as the biggest mobile operator in Laos with the highest download and upload speeds, Untel SIM Card/eSIM will give you a better mobile experience.
If your phone supports eSIM, buying a Laos Unitel eSIM will release you from delivery cost as well as shipping time.
There are several online providers offering eSIM connecting to Unitel Network in Laos, and Laoesim is among the best thanks to:
Diversity in plans
Competitiveness in prices
Quick support via WhatsApp/Facebook/Email
Let's see our Unitel Laos eSIM plans as alternatives for ETL SIMs:
Unitel eSIM plans
| | | | |
| --- | --- | --- | --- |
| Plan Name | Data Allowance | Price | Validity |
| Classic 1 Day | 500MB | $1.50 | 1 day |
| Weekly | 1.5GB | $5 | 7 days |
| Monthly Lite | 3GB | $10 | 30 days |
| Monthly Classic | 5GB | $15 | 30 days |
| Monthly Plus | 10GB | $20 | 30 days |
| 3 Month Basic | 15GB | $35 | 90 days |
| 6 Month Standard | 30GB | $60 | 180 days |
You can also check some highly- rated eSIM plan options of laoseSIM.com, these flexible eSIM plans from laosesim provide very good value mobile connectivity options for travelers of all lengths of stay in Laos.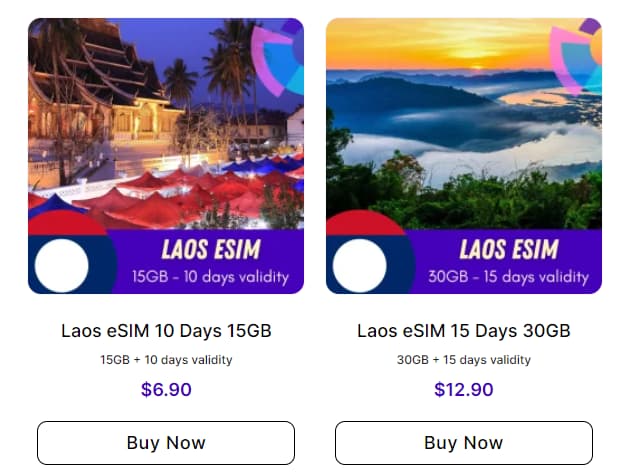 XI. FAQs about ETL Laos
Can I use my ETL SIM for tethering/ mobile hotspot?
Yes, ETL SIMs support tethering/ hotspot to share your mobile internet connection with other devices. A mobile hotspot package may be required.
Can I access to Facebook with ETL's network
In previous year, Facebook was intermittently banned in Laos by the government. However, since 2019 it has been consistently accessible through ETL but using VPN is advisable to guarantee unrestricted access throughout your trip. Speed will still be sufficient for general use.
Are prepaid mobile plans taxed in Laos
A 10% VAT tax is applicable on prepaid mobile top-ups. Top-up amounts displayed include this tax amount.
XII. Final words
ETL provides reliable and affordable 4G connectivity within Laos through its prepaid SIM cards and newer eSIM functionality. By choosing ETL as your mobile network, you can easily share awesome moments with your friends, find your way around new places without any trouble, and keep in touch with your family and friends who are far away.
Get ready to have an awesome time and create super cool memories in this pretty country with ETL