Staying connected while traveling in the beautiful Southeast Asian country of Laos is important for both safety and enjoyment.
This guide will help you to get a Laos SIM card for your trips!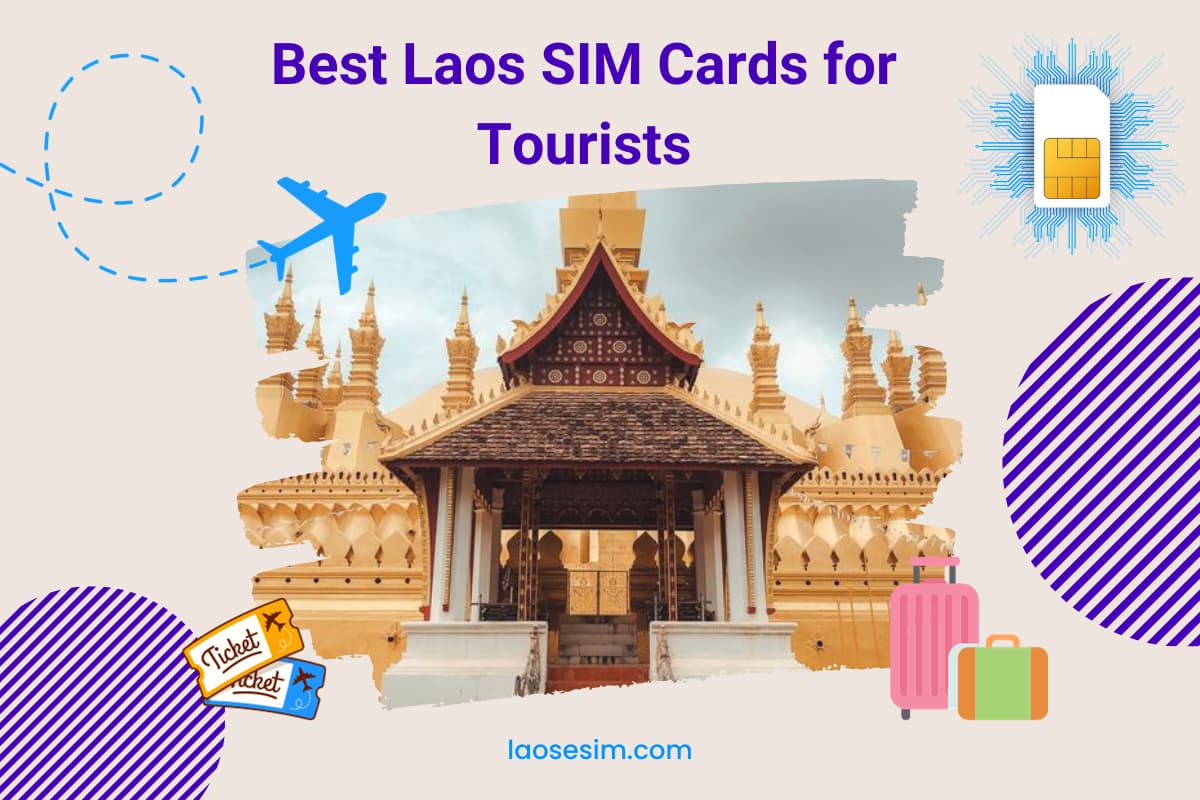 Table of Contents
I. Should I Buy a New SIM Card For My Laos Trip
When traveling in Laos as a tourist, having a reliable mobile connection is important to fully enjoy your trip. While options exist like using roaming on your home network or renting pocket WiFi, getting a prepaid SIM card from one of Laos' mobile operators provides the best connectivity solution. Roaming allows using your existing number abroad but costs are extremely high compared to local SIM rates. Pocket WiFi provides internet access through a portable hotspot but coverage is limited to the location it is in and plans involve daily rental fees.
So, using a SIM card would be the best choice for tourists, which allows you to make calls, send texts and access data services right from your unlocked phone, without the hassle of additional devices. You can have a local number and also facilitate interactions with locals for assistance. Plus, rates are significantly cheaper than roaming or pocket WiFi rentals.
💡Note: When visiting for a brief period, choosing an eSIM could potentially offer more suitable connectivity. This allows utilizing existing data and calling allocations across borders without needing to acquire a new in-country SIM card.
II. Laos SIM Card Types – Which One Is The Best for Tourists
When traveling in Laos, choosing the appropriate mobile data plan is an important decision to ensure you stay connected. There are various factors to consider such as your phone compatibility, intended usage, and payment preferences. At a high level, SIM can be classified into three main categories – by form factor, features, and payment method.
1. Physical SIM and eSIM
In terms of form, you can select either a traditional physical SIM card that inserts into your device, or opt for a new eSIM which activates digitally. While physical SIM cards and eSIMs differ in their activation process, they also share some similarities. Here are the details: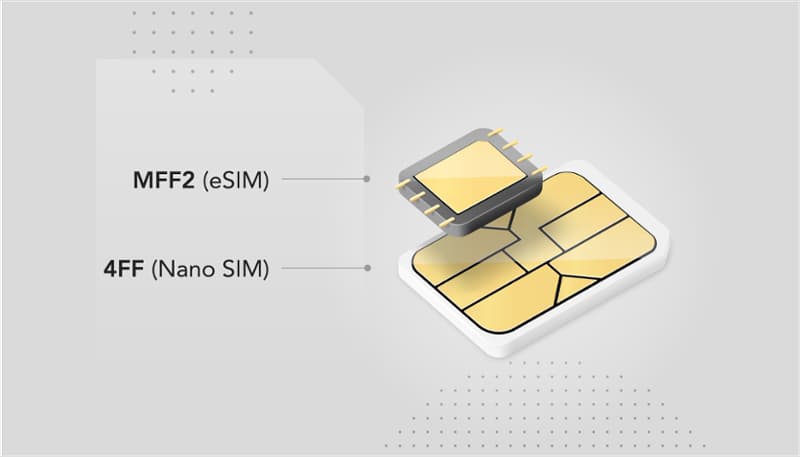 Similaires:
Both support connection with suitable mobile networks for your device
Both can be used on various different devices
Both have multiple package options for you to choose from depending on your needs
Both can support multiple SIMs on the same device simultaneously
Both are installed in the device to perform the basic functions of a phone SIM
Differences
| | | |
| --- | --- | --- |
| Criteria | eSIM | Physical SIM |
| Size | Very small, embedded in the device circuit board to increase hardware space of the device, cannot be removed or damaged | Still occupies a fair amount of hardware space although size has been optimized, can be lost or damaged if not handled carefully |
| Activation method | Self-activate SIM on device in a few simple steps | Seller will activate SIM for you when you provide front and back photos of SIM |
| Device durability | Prevents water and dust ingress to increase device durability | Often leaks water and dust ingress through gaps, affecting durability over time |
| SIM switching process | SIM switching and network switching is done directly on the device very quickly and conveniently | Must remove SIM and insert new one if you want to switch SIM. If want to switch networks or international roaming must go to network operator stores |
| Integration capability | Can integrate up to 5 different SIMs on 1 device | Can integrate maximum 2 SIMs on 1 device |
| Storage | Has contact list and phone number storage | Can support storing from 250-750 contacts |
| When faulty | Can automatically update device to a higher version to fix issues | Can upgrade package or seek operator assistance |
| Location tracking | Easier location tracking in case of lost or stolen phones | More difficult location tracking if phone is lost or stolen |
| Supported devices | Supports latest smart devices like iPhone, high-end Android, Apple Watch, tablets, and will support more devices in the future | Supports most devices |
In summary, physical SIMs are the traditional option. But eSIMs offer convenience, flexibility, low risk options that are best suited for your trips and exploring coverage- benefiting modern digital nomads.
2. eSIM data and regular eSIM
For feature, we have:
Data-only eSIM: Offer internet access solely
Data & Voice eSIM: Provide full phone service as well
There are some comparison between them:
Data-only eSIM and Data & Voice eSIM
| | | |
| --- | --- | --- |
| Criteria | Data-only eSIM | Data & Voice eSIM |
| Calling/Messaging | Only able to receive calls and messages. Cannot make calls or send messages. | Allows calling, messaging, and high-speed data access like a regular SIM. |
| Data Usage | Provides data packages for internet access. | Provides full cellular connectivity including voice, text, and high-speed data. |
| Network Changes | May not allow changing networks easily. Need to purchase a new eSIM profile. | Allows changing networks easily from device settings without purchasing a new profile. |
| Compatible Devices | Usually compatible with more devices than regular eSIM. | Compatible with devices that support regular eSIM insertion. |
| Activation | Needs activation from eSIM provider. | Can be self-activated by scanning QR code. |
| Cost | Generally more affordable than regular eSIM. | Cost depends on eSIM provider and subscribed mobile plan. |
| Profile Storage | Only stores a single data profile. | Can store multiple network profiles simultaneously. |
👉eSIM tips: Before getting started with the eSIM purchase, you need to make sure that your phone is carrier-unlocked and eSIM-compatible. Please check eSIM-compatible device list.
3. Postpaid and Prepaid
As for payment, we have:
Prepaid plans: Require pre-loading credit
Postpaid plans: Bill after usage
You can check the details below:
Postpaid and Prepaid
| | | |
| --- | --- | --- |
| Feature | Postpaid | Prepaid |
| Payment Method | Pay monthly bill after usage | Pay for credit/plan upfront |
| Contract Length | Typically 1-2 years | No contract |
| Upfront Cost | No upfront payment for phone | Upfront payment for SIM card/credit |
| Usage Tracking | Usage tracked monthly and billed | Pre purchased credit deducted with usage |
| Credit Check | May require credit check approval | No credit check required |
| Going Over Limit | Can go over limit and be billed more | Usage stops when credit is used up |
| Changing Plans | Can change plans during contract | Flexible to change plans anytime |
| Cancelling Service | May face penalties for early cancellation | Easy to cancel any time |
| Flexibility | Less flexibility due to contract terms | More flexibility with no contracts |
| Suitable For | Heavy/consistent users | Light/casual users or travelers |
| Pros | Potentially lower total cost due subsidies | No long commitments or surcharges |
| Cons | May face penalties or higher usage rates | Must top up credit in advance |
Therefore, prepaid SIM cards offer tourists in Laos greater budget control, flexibility and peace of mind through their pay-as-you-go nature without long term commitments. This makes them the recommended choice over postpaid plans.
III. How Much Data is Enough For a Prepaid Tourist SIM Card for Laos
There is no set amount of data that would be enough for a tourist SIM card in Laos, as data needs vary between individuals and trips. However, here are some general guidelines on data allowances based on typical usage:
3-5 day trip: 1-2GB would likely be sufficient for basic maps/navigation, social media, email/messaging.
1 week trip: 2-4GB would allow for moderate browsing, GPS use, photos/videos to share, and streaming music.
2 weeks: 5-8GB for heavier users wanting to stream HD video, upload/download large files.
3+ weeks: 10GB and above for extended trips with more in-depth Internet usage.
Things to consider:
How much you plan to use data for navigation, photos, ordering taxis etc.
Amount of videos/music you might stream offline/online.
Any uploading/sharing of large files like 4K videos.
Many Laos SIMs offer data rollover if you don't use the full allowance.
In general, most short trip SIMs in Laos start from around 1-2GB. But getting 5-8GB would provide reasonable peace of mind for your trips. Consider buying more data if staying longer.
IV. How Much Does a SIM Card For Laos Cost?
The cost of a SIM card in Laos depends on the network, data allowance and validity period, but here are some typical prices:
SIM Card Cost
| | | | | | | |
| --- | --- | --- | --- | --- | --- | --- |
| Operator | Plan | Approx. Price (USD) | Local SMS | Local Minutes | Data | Approx. Cost (USD) |
| Unitel | Basic Plan | $3 | Unlimited | 100 | 1GB | $5 |
| Unitel | Standard Plan | $5 | Unlimited | Unlimited | 3GB | $8 |
| Unitel | Premium Plan | $8 | Unlimited | Unlimited | 5GB | $10 |
| Lao Telecom | Basic Plan | $3 | Unlimited | 100 | 1GB | $5 |
| Lao Telecom | Standard Plan | $5 | Unlimited | Unlimited | 3GB | $8 |
| Lao Telecom | Premium Plan | $7 | Unlimited | Unlimited | 5GB | $9 |
| ETL | Basic Plan | $2 | Unlimited | 100 | 1GB | $4 |
| ETL | Standard Plan | $4 | Unlimited | Unlimited | 3GB | $6 |
| ETL | Premium Plan | $7 | Unlimited | Unlimited | 5GB | $9 |
| TPlus | Basic Plan | $3 | Unlimited | 100 | 1GB | $5 |
| TPlus | Standard Plan | $5 | Unlimited | Unlimited | 3GB | $7 |
| TPlus | Premium Plan | $8 | Unlimited | Unlimited | 5GB | $10 |
Most major retail outlets stock SIM cards including 7-Elevens in towns and airports. Data-only eSIM options are increasingly available too. Overall expect to pay $5-20 depending on data needs. Plans are affordable in Laos.
V. Where To Buy a Laos SIM Card
You can check some places to get your Laos SIM card and eSIM below:
1. Where to buy Laos SIM card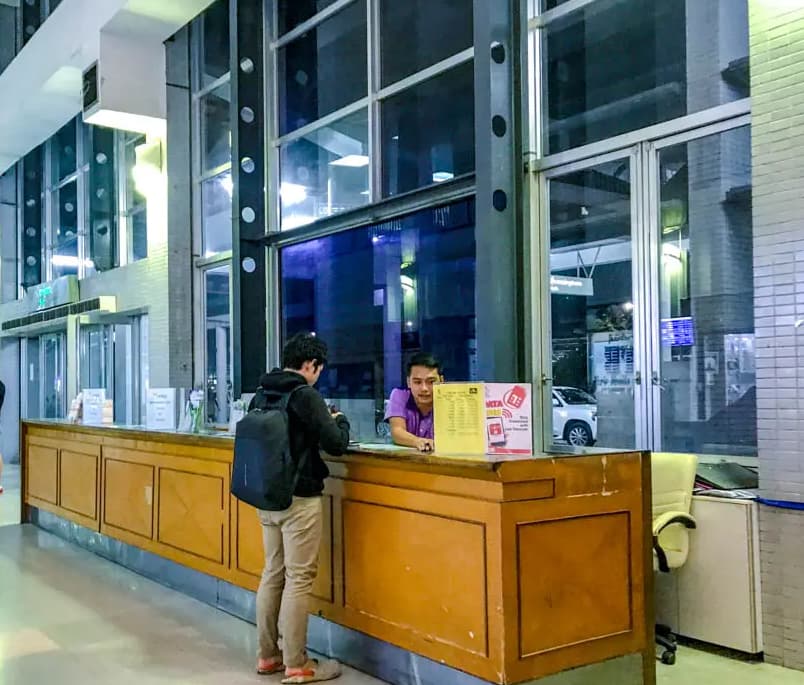 Laos SIM card can be purchased from several locations, including:
Airport: SIM cards can be purchased as soon as you arrive at the airport in Vientiane or other international airports in Laos. Discover more on how to buy a SIM card at Wattay Airport.
7-Eleven: Popular convenience stores throughout Laos sell prepaid starter kits from Unitel, Lao Telecom, TPlus and ETL. Activation is quick.
Local Phone Shops: Small sim dealers and repair shops are abundant in towns selling all providers' SIMs. Check google maps for credible stores.
Online: Websites like Unitel.com.la and LaoTelecom.com offer SIM activation. However, delivery is not guaranteed for foreigners.
While 7-Elevens and local shops provide alternatives, the airport SIM purchase conveniently ticks all the right boxes for tourists – choice, support, timing and immediate use – to stay connected from the moment they land in Laos.
💡Note: Always keep SIM packaging as reference for data rollovers or support needing account info later. Shops can assist with settings too.
2. Where to buy Laos eSIM
Tourist eSIMs for Laos travelers can be purchased from Laos telecommunications providers before or after arrival in Laos. Here are some options:
Laosesim: LaoseSIM provides a hassle-free way to purchase eSIMs online ahead of travel to Laos. They offer packages 15GB for 10 days at $6.90 and 30GB for 15 days at $12.90. You can visit laosesim.com for more details.
Unitel : Unitel is the largest carrier. Offers eSIM packages on their website for both tourists and residents. Plans include data-only and full service options with monthly renewals, starting from around $5 for 500MB valid 7 days. 1GB bundles are $10-15
Lao Telecom: They launched eSIM support in 2022, plans include data-only options starting at 50GB for 15 days ($25) as well as voice/ text bundles. However, coverage abroad is limited for now
ETL: eSIM profiles can be activated through ETL's website. Plans include data bundles starting from 500MB for 1 day. ETL's eSIM offers an alternative network for compatible devices, but coverage is narrow
TPlus: Plans range from 1GB for 3 days to monthly packages, with rates often cheaper than local SIMs. But coverage is limited to 4G networks which spans major cities/towns but not rural areas.
VI. How To Use Laos SIM
Here are some tips for using a Laos SIM card or eSIM:
– Activating the SIM: Insert the SIM card into your phone and turn it on. The carrier will activate it automatically. For eSIM, the carrier can help configure your phone remotely.
– TOP- UP: You can top up credit at carrier stores, convenience stores, or via apps. Ask for a "top-up" and specify the amount in local currency (Lao Kip). Keep some change handy as bills may be in large denominations.
– Data packages: Carriers offer daily/weekly data packages at affordable rates starting from $2-3 per day. Check package details as speed and usage limits vary. WiFi is widely available as an alternative.
– Making calls: Dial the number without the initial 0 for landlines. For calls to other countries, dial the country code followed by the number. WhatsApp/Viber are good options for inexpensive international calls.
Please check your detailed on activate eSIM:
VII. Best Mobile Operators for Laos SIM Cards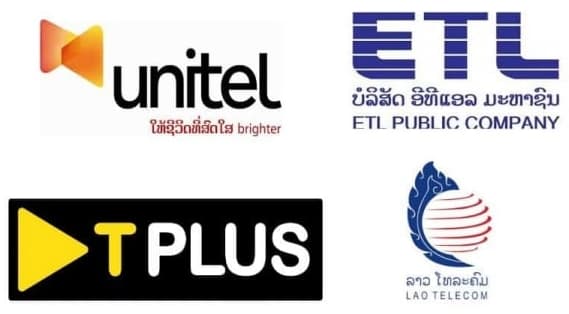 Mobile Operators
| | | | | |
| --- | --- | --- | --- | --- |
| Network | Unitel | Lao Telecom | ETL | TPlus |
| Features | The largest in Laos, with nationwide coverage | The oldest network, with good quality | The third largest network in Laos | The new 4G mobile network |
| Coverage | Nationwide coverage from urban to rural areas | Wide coverage across the country | Mainly covers the capital Vientiane | Expanding coverage range |
| 4G Network | Widest 4G/LTE network across Laos including remote areas | 4G available in most major locations | Network coverage is limited to main cities/towns only | Good in major hubs but not widespread |
| Target Users | Lao people and tourists | Lao people and tourists | Lao people and tourists | Lao people and tourists |
| Main Package | E.g. 10GB + 100 minutes for 100,000 kip (~$4.5) | E.g. 10GB for 120,000 kip (~$5.86) | E.g. 5GB for 50,000 kip (~$2.44) | E.g. 10GB for 120,000 kip (~$5.86) |
So, for reliable coverage spanning cities and rural areas alike, Unitel would be the top recommendation for wandering off the beaten path.
You can also check the Best Laos Mobile Operators for more details.
VIII. Tips For Saving Data For Laos SIM
Conserving data is especially important for your trips. So it's a good idea to save some tips for Laos SIM:
Turn off cellular data when not in active use. Only have it on when needing data
Disable background app refresh to prevent apps constantly updating over data.
Use WiFi whenever available at hotels, cafes, attractions for downloads and streaming.
Consider using a map downloading app like Maps.me to cache map areas offline instead of relying on online navigation.
Stream music locally stored on device instead of via online streaming services.
👉Tips: Connecting to any available Wifi hotspot is also handy for big data activities.
IX. FAQs
Can I use my Laos SIM card in other Southeast Asian countries?
A Laos SIM is restricted for use only within Laos. To use a mobile network in other Southeast Asian nations, you'll need to purchase a local prepaid SIM upon arrival in each country for the best and most affordable connectivity. You can consider an eSIM with roaming instead.
Do I need to unlock my phone to use a local SIM?
Yes, your phone needs to be network unlocked to accept a local SIM card. Most modern phones can easily be unlocked.
Can I keep my SIM card after travel?
Technically yes but prepaid credits expire in 30 days if not used or topped up. It's usually not worth keeping for future trips.
X. Conclusion
With the right mobile plan and preparations, you can easily share your experiences of Laos' rich culture, scenic landscapes and welcoming people back home. Most importantly, fully immerse yourself in exploring this enchanting country – from the historic sites of Luang Prabang to the towns along the Mekong. The possibilities to discover are endless!