Visiting Laos soon and wondering if you should buy a Laos Unitel SIM Card and eSIM or not, and if yes, which one should you choose?
Discover with us right in this article.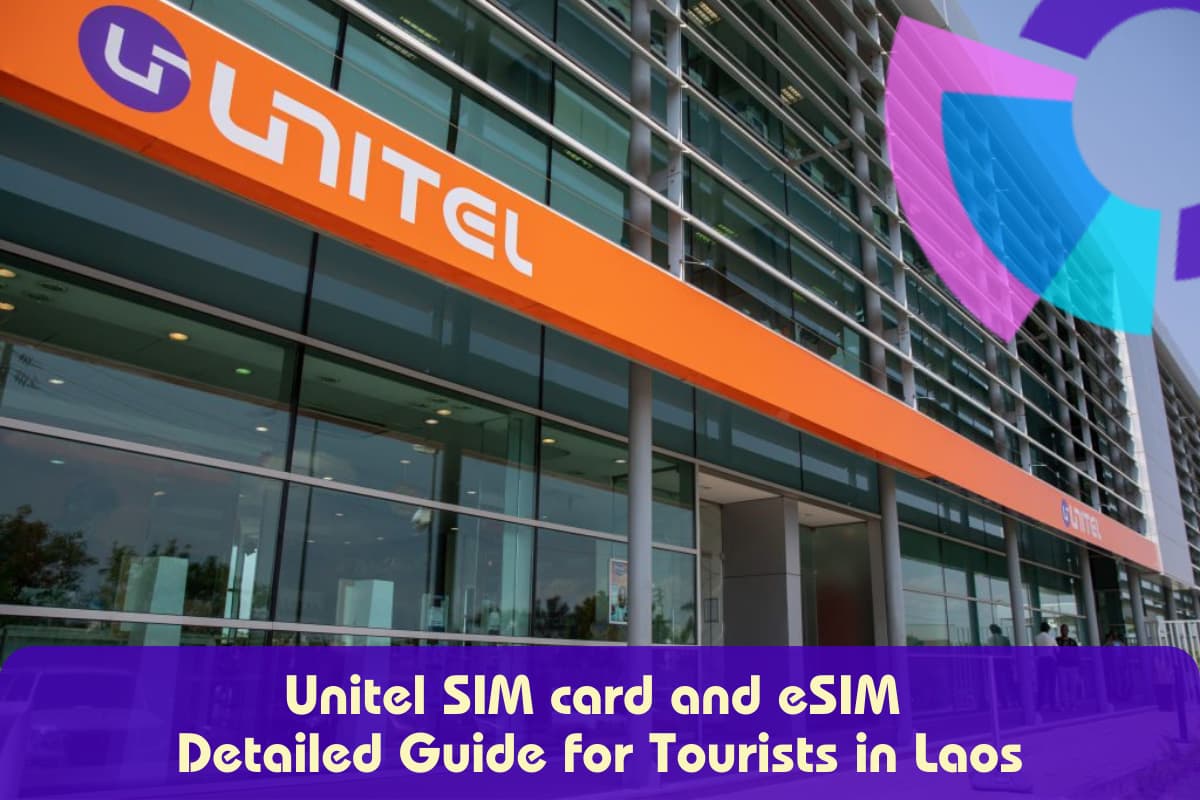 Table of Contents
I. Quick Facts about Unitel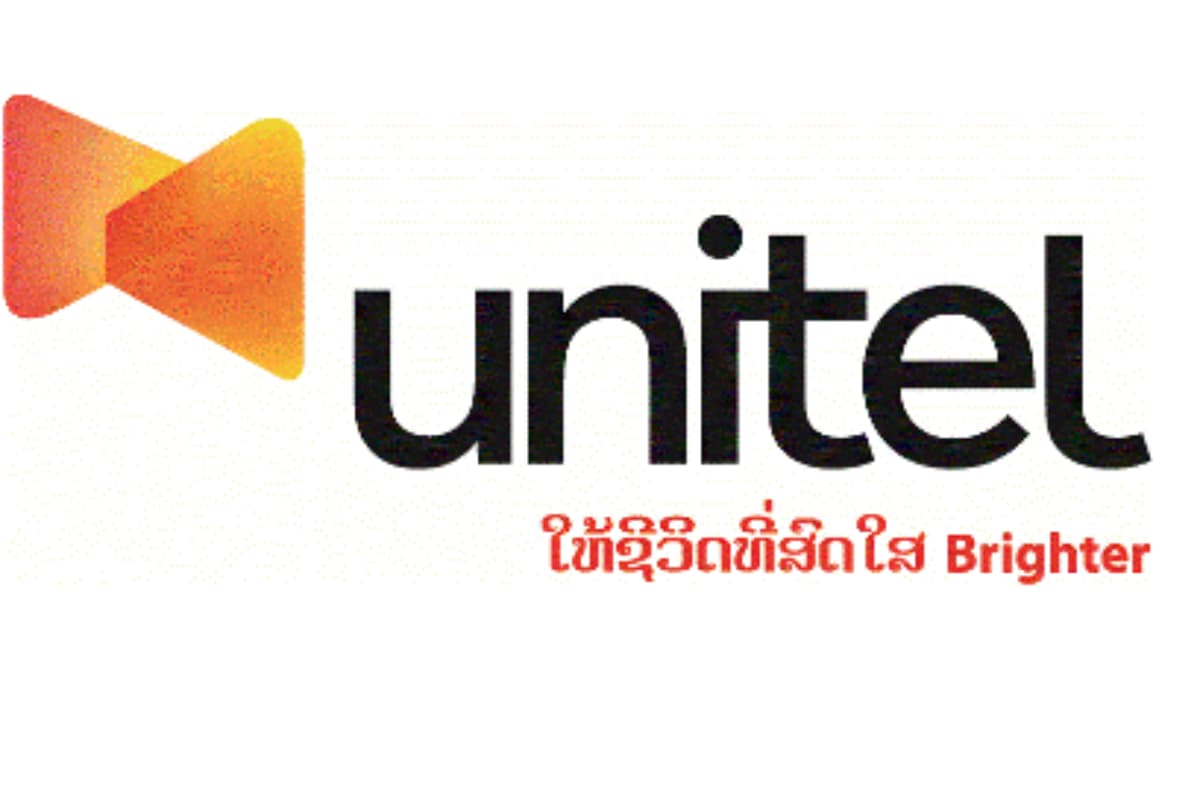 Unitel is one of the best mobile operators in Laos. It is the joint venture between Viettel Global and Lao Asia Telecom. You can check out interesting facts about this brand.
Company name: Star Telecom. Co, Ltd.
Brand name: Unitel consisting of Uni in "United" and Tel in "Telecommunication". So, its name means a telecom network to connect the Laotian and bring them a better life.
Established: 2007
Service launched: November 2009, 4G service nationwide in 2015
Services providing: Mobile, Internet, fixed broadband
Distribution channels: 143 shops, 174 agents and sales points, 400 sales people.
Customer care system: 200 agents/shift at the same time.
Number of subscribers: 3.5 million, comprising 58 percent of market share in the telecommunications sector (Updated in 2022).
Awards and Recognitions:

Laos' speedtest award ™ Winner for mobile network speed in 2020
Innovation in Public Administration Services and Innovation in Consumer Products and Services at 2020 Asia Pacific Stevie Awards
So, if you are traveling to Laos and need a good mobile service, Unitel Laos will be a great choice
II. Unitel Coverage and speed in Laos
Unitel boasts an impressive network coverage that spans across cities, towns, and even remote areas in Laos, achieving coverage of over 95% of Laos' population. Whether you're exploring the bustling streets of Vientiane or the serene landscapes of Luang Prabang, you can rely on Unitel's coverage to keep you connected. With Unitel, you won't have to worry about being offline, just enjoy your trip.
Here comes a quick glance at the Laos Unitel Coverage and speed below:
1. Laos Unitel Coverage
As mentioned above, Unitel services cover up to 95% of Laos' population. You can check its coverage map: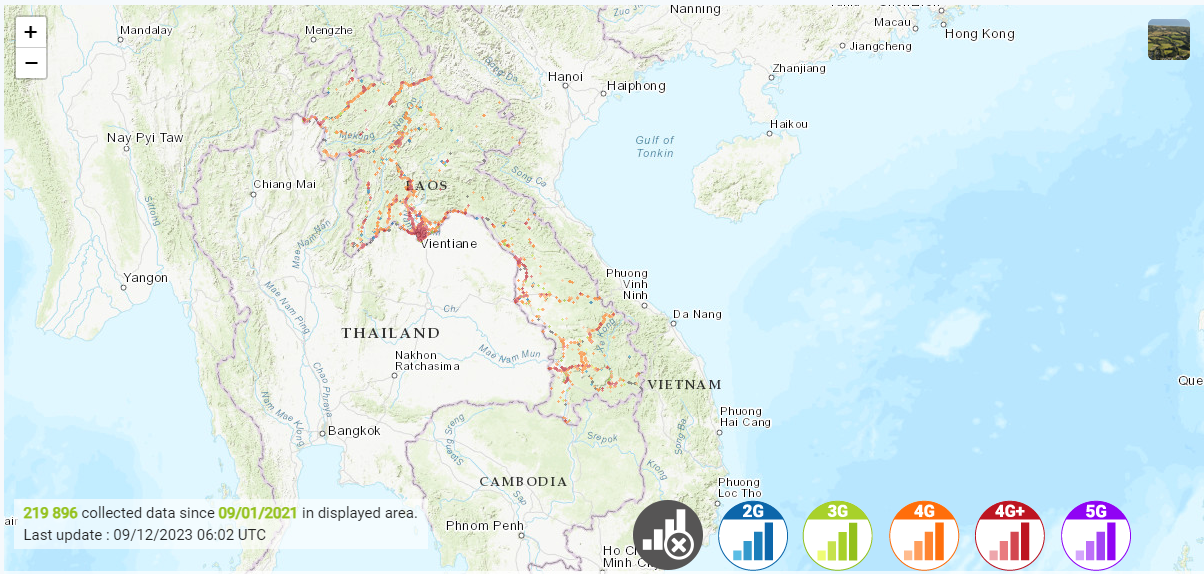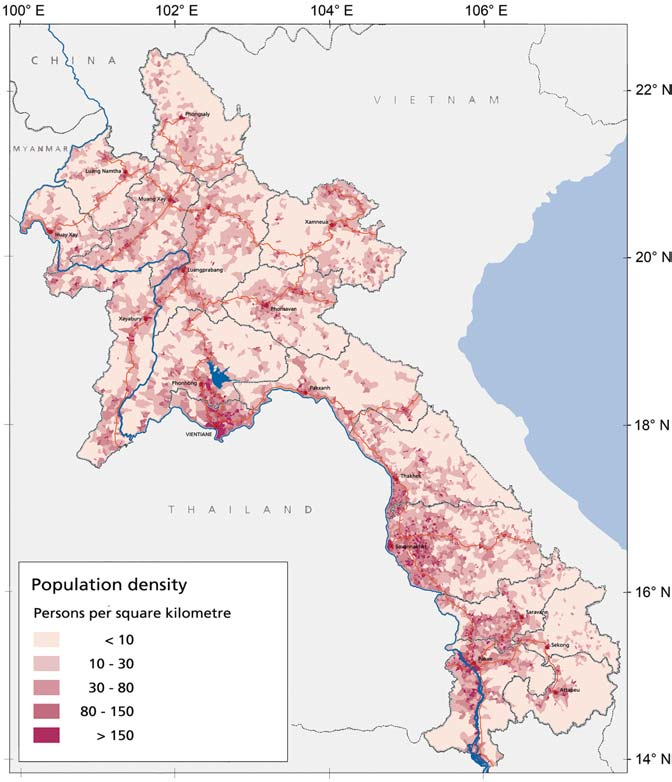 According to these maps, Unitel offers a widespread network that caters to both urban and rural areas, densely populated places. Whether you're roaming around Vientiane or venturing off into more remote corners like Luang Prabang or Pakse, you can expect decent signal strength and uninterrupted service.
In general, though, users often report satisfactory browsing speeds and reliable connectivity for everyday tasks such as social media browsing, video streaming, or online gaming.
2. Unitel Speeds in Laos:
According to Speedtest.net, the Laos Median Country Speeds July 2023 is as follows: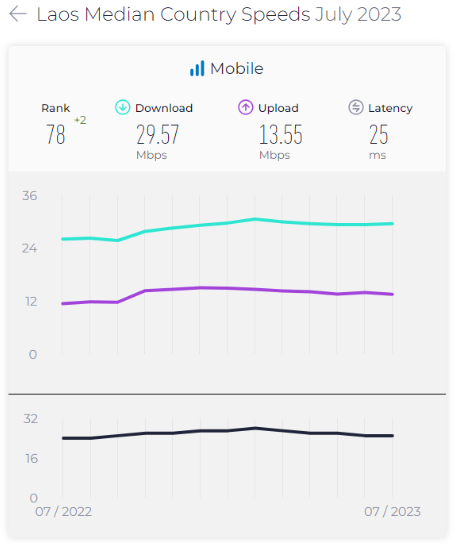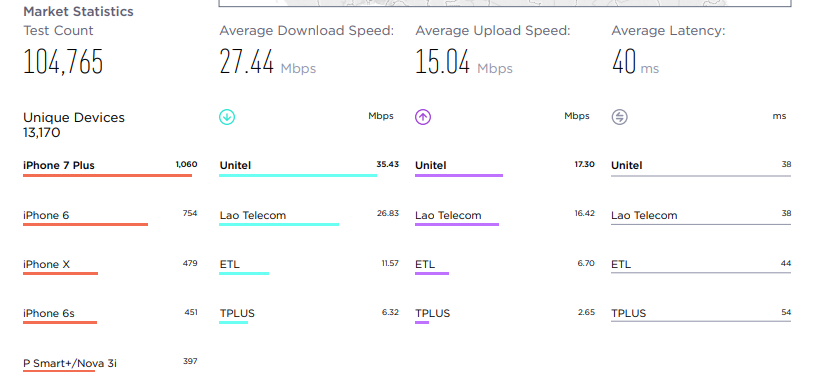 Speedtest Lao's network
| | | |
| --- | --- | --- |
| Category | Laos Median Country Speed (July 2023) | Unitel Laos Speed |
| Download | 29.57 Mbps | 35.43 Mbps |
| Upload | 13.55 Mbps | 35.43 Mbps |
According to this result, with Unitel's 4G/LTE network you can browse the web, watch videos, and use apps smoothly. But the actual speed you get can depend on things like how many people are using the network, how strong the signal is, and the device you're using. In crowded places or when lots of people are using the network, the speed might be slower because there's more traffic.
III. Laos Unitel Connectivity Options for Tourists
Unitel Laos is known for its high-speed 4G network in major cities and towns. They has got you covered with some awesome ways to stay connected like SIM card, Pocket Wifi and Bundle, their options are similarly priced and provide excellent value.
You check out these options:
Connectivity Options
| | | | |
| --- | --- | --- | --- |
| Option | Description | Unitel Advantage | Potential Limitation |
| SIM Card | Pay-as-you-go data packages | Fastest 4G speeds for streaming/downloads | Cellular connection limits speeds |
| | From $3 for 1GB | | |
| Pocket WiFi | Rental WiFi hotspot | Sharable internet for all devices | Dependent on cellular signal quality |
| | Plans from $25/month | | |
| Roaming | Travelers can stay in touch easily abroad | No need to insert/add any new SIM, but your primary SIM only | Crazy expensive |
| | | | Unable to control your usage if your primary SIM is post-paid |
Overall, Pocket Wifi is better for sharing internet in groups, Bundles provide the most flexibility and convenience for any trip but the price is the highest.
So, the affordability, flexibility and portability make a SIM card a good simple choice for many casual tourists. Once you've got that, just pop the SIM card into your device. And voila! You're good to go! The SIM card will automatically connect, and you can start using your phone, tablet, or laptop right away.
IV. Best Unitel SIM Card for tourists to Laos
As a tourist, the best Unitel SIM Card should be a prepaid SIM Card. Fortunately, Unitel in Laos offers various prepaid SIM card options for tourists, of which the one should be chosen depends on your specific needs and usage requirements. Here are a few options to consider:
1. Data-Only Unitel SIM Card:
If your primary need is mobile data for browsing the internet, using social media, or accessing maps, Unitel may offer data-only SIM cards. These SIM cards typically come with generous data allowances and can be a cost-effective option for travelers who primarily require internet connectivity.
Data-Only plans
| | |
| --- | --- |
| Feature | Details |
| Plan Options | 500MB (30 days), 1GB, 3GB, 5GB |
| Prices | 30,000 kip for 500MB, prices vary up to 150,000 kip for 5GB |
| Validity | Plans range from 30 days to no expiration |
| Data Speeds | LTE/3G depending on coverage, no throttling |
| Additional Data | Can top-up before expiration online or via app |
| International Use | SIM locked to Unitel Laos network only |
| Registration | No registration needed, quick activation |
2. Voice and Data Unitel SIM Card:
If you require both voice and data services, Unitel's voice and data SIM cards are suitable. These SIM cards provide a balance of voice minutes and data allowance, allowing you to make local calls and access the internet during your stay in Laos.
Voice & Data Plans
| | | | |
| --- | --- | --- | --- |
| Plan | Allowances | Validity | Price (USD) |
| 1 Day | 1GB Data / Unl Calls/SMS | 1 Day | $1.02 |
| 3 Days | 1GB Data/Day, Unl Calls/SMS | 3 Days | $2.04 |
| 7 Days | 2GB Data/Day, Unl Calls/SMS | 7 Days | $3.57 |
| 15 Days | 2GB Data/Day, Unl Calls/SMS | 15 Days | $6.12 |
| 30 Days | 3GB Data/Day, Unl Calls/SMS | 30 Days | $10.21 |
V. Does Unitel Laos offer eSIM?
Yes, Unitel just came out with this cool new thing called eSIM service. Unitel was the first mobile operators in Laos to launch eSIM support. They begin rolling out eSIM capabilities in late 2021 on a limites basis and full commercial availability profiles was announced in early 2022.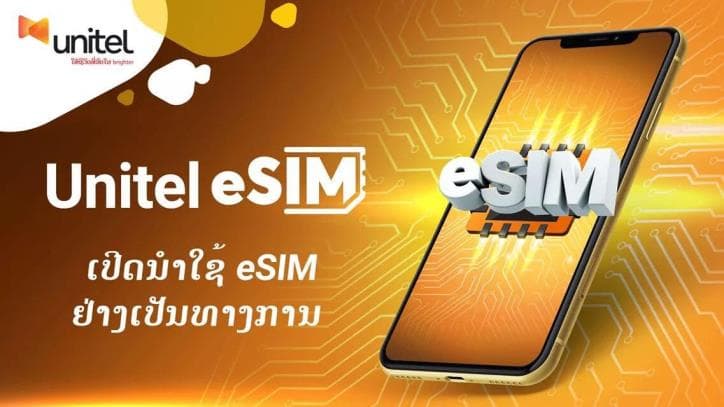 Comparing to the physicial SIM, the eSIM carries various advantages as follows:
SIM card & eSIM
| | | |
| --- | --- | --- |
| Feature | SIM card | eSIM |
| Pros | Compatible with nearly all phones | No physical card needed |
| | Can be purchased easily locally | Can load multiple profiles on one device |
| | No activation fees | Manage profiles remotely online |
| Cons | Requires insertion in device | Limited to newer flagship devices |
| | Can be lost and damaged | Requires cloud connection for set up |
| | Only one or two SIM per device | Not universally adopted yet |
In summary, SIM cards are affordable and universal solution while eSIM provides benefits of digital management if your device supports the technology. With Unitel, you can find both SIM card and eSIM, so just enjoy your trip.
There are a lot of online stores that provide prepaid Unitel Laos eSIM for tourists, including laosesim.com.
You can check the Unitel Laos eSIM plans below:
eSIM plans
| | | | |
| --- | --- | --- | --- |
| Plan Type | Data Allowance | Validity | Price (USD) |
| Monthly Data Plan | 500MB | 1 Month | $1.53 |
| Monthly Data Plan | 1GB | 1 Month | $2.55 |
| Monthly Data Plan | 3GB | 1 Month | $5.10 |
| Monthly Data Plan | 5GB | 1 Month | $7.66 |
| Daily Data Pass | 1GB | 1 Day | $0.77 |
| Daily Data Pass | 2GB | 1 Day | $1.53 |
| Weekly Data Pass | 1GB | 7 Days | $1.53 |
| Weekly Data Pass | 2GB | 7 Days | $2.55 |
| Unlimited Calls/SMS Plan | 1GB/day | 1 Month | $2.55 |
| Unlimited Calls/SMS Plan | 2GB/day | 1 Month | $4.08 |
| Unlimited Calls/SMS Plan | 3GB/day | 1 Month | $5.10 |
You can also check some highly- rated eSIM plan options of laoseSIM.com: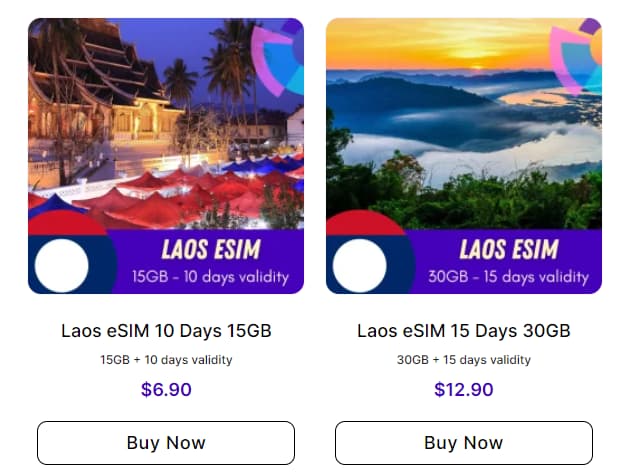 LaoseSIM makes getting online seamless for travelers. The low-cost plans, reliable network, and buyer-friendly website minimize issues with international cellular access. It's top choice for hassle-free connectivity in Laos
VI. Where to buy Laos Unitel SIM card and eSIM?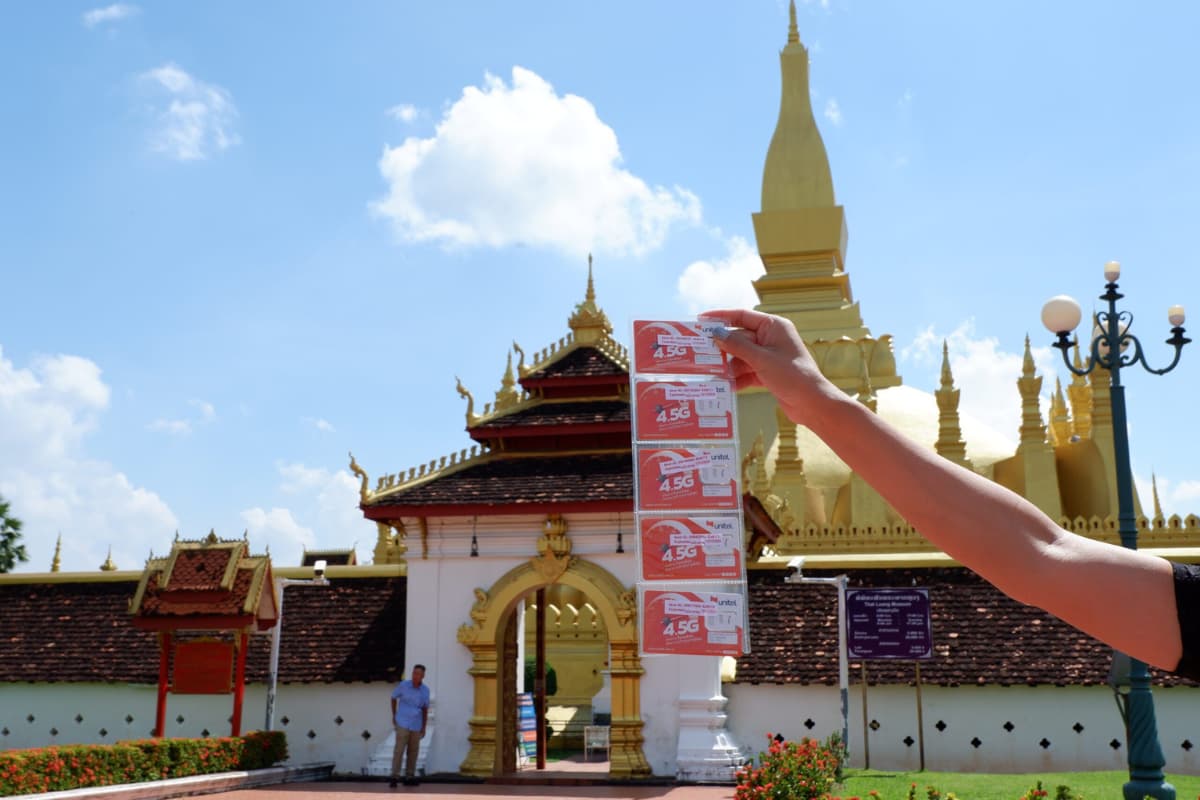 1. Where to buy Unitel SIM card
Hey there! If you're visiting Laos and want to get a SIM card, no worries! Here are some cool places where you can buy one:
Airports: When you arrive at international airports like Wattay International Airport in Vientiane or Luang Prabang International Airport, you'll find little shops or kiosks where you can buy SIM cards. Just look for the booths or stores of telecom providers inside the airport.
Unitel Stores: Unitel is a big telecom company in Laos. They have stores and kiosks in major cities, towns, and touristy areas. You can go to one of their stores to buy a SIM card and ask any questions you have. Just google map Unitel store nearby, you will get the list to go.
Mobile Phone Shops: Besides the stores of specific telecom providers, there are also general mobile phone shops that sell SIM cards. These shops might have SIM cards from different providers, so you can choose the one that suits you best.
And don't forget to bring your passport when you buy a SIM card in Laos. They might ask for your ID during the registration process. It's also a good idea to compare the different telecom providers to see which SIM card gives you the best deal for data, call minutes, and coverage.
2. Where to buy Unitel Laos eSIM
The best place to buy a Unitel eSIM for Laos is to get it online, and the best time to get it is before your departure for Laos.
The process to get the Unitel Laos eSIM online is quite easy as follows:
Step 1: Access to website/app of a Unitel eSIM provider, such as Laosesim.
Step 2: Select the esim plan that fits your trip,
Step 3: Make payment online
Step 4: Install the esim and enjoy your trip.
Here are popular prepaid Unitel eSIMs for Laos preferred by Laosesim's customers that you can refer to:
👉eSIM tips: Before getting started with the eSIM purchase, please make sure that your phone is carrier-unlocked and eSIM-compatible. In case you are not sure in this regard, please check eSIM-compatible device list.
VII. How to Activate Unitel Laos SIM/eSIM
It's not difficult to use a Unitel SIM/eSIM for Laos. In case this is your first time using it, please check for instruction below.
1. Activate Unitel Laos SIM card
Insert the SIM card: Locate the SIM card slot on your device
Power on your device: Turn on your device and wait for it to recognize the SIM card
Activate the SIM card: In most cases, Unitel Laos SIM card will be pre-activated
Set up APN settings if you can not use the eSIM.
Check your balance and services
2. Activate Unitel Laos eSIM
Install the eSIM
Activate the eSIM
Set up the eSIM
Start using the eSIM: Once the eSIM is activated and set up, you can start using to make calls, send texts and access mobile data.
Please check your detailed instructions below:
VII. Laos Unitel Call & SMS rates
Call & SMS rates
Call & SMS Rates
| | |
| --- | --- |
| Domestic call | 800 Kip ($0.04)/min  |
| Internal SMS | 100 Kip ($0.005)/SMS |
| Off-network SMS | 200 Kip ($0.01)/SMS |
| International SMS | 500 Kip ($0.025)/SMS |
| International calls | based on that country's call rates |
Unitel offer some pretty reasonable rates for both calls and texts. Unitel also have various packages and promotions available that can save you even more money on your phone bills. It's worth mentioning that international calls and text rates tend to be higher than local ones, so keep an eye on that if you'll be reaching out to people abroad from your Unitel device. Overall though, if you're looking for cost-effective options to stay connected in Laos, Unitel is definitely worth considering!
VIII. Useful USSD codes for Unitel Laos SIM/eSIM
Here are some useful USSD codes for Unitel Laos SIM
USSD Codes
| | |
| --- | --- |
| *122# | Check Balance |
| *127# | Check Phone Number |
| *126# | Data Balance |
| *101# | Check Data Package |
| 1220 | Customer Care |
IV. How To Top up Your Laos SIM
To top up your SIM card in Laos, you can follow these general steps:
1. Find a Unitel store or authorized retailer:
When you're in Laos, look for a Unitel store or a place that sells Unitel stuff. You can find them in big cities, towns, or places where tourists go. You can ask people who live there or search online to find the closest Unitel store.
2. Get a recharge voucher:
Once you find a Unitel store or authorized retailer, ask for a recharge voucher. These vouchers come in different amounts and have a special code with 16 digits on them.
3. Dial the special code:
Scratch off the covering on the voucher to see the 16-digit code. Then, use your Unitel phone to dial a special code that starts with *123* and ends with the 16-digit code. For example, if your code is 1234567890123456, you would dial *123*1234567890123456#.
4. Make sure it works:
After you dial the special code, press the call button. The system will process your request and you'll get a message saying that your Unitel SIM card has been topped up with prepaid credit.
5. Check how much credit you have:
To see how much credit you have now, you can dial *122# and press the call button. A message will show up on your screen telling you how much prepaid credit you have left.
With Unitel, you can buy Unitel top-up almost everywhere. Just keep an eye out for the Unitel sign in front of small shops.
Here's the exciting part: Unitel has lots of promotions and they're known for having the best prices. So, it's always a good idea to tell about how to reduce your mobile bills
There are some ways travelers can save money when using Unitel's network in Laos:
Purchase multi-day or monthly data plans – These work out cheaper per day than one-time daily data bundles. Check Laos eSIM for good value weekly/monthly options.
Refer a friend – Unitel offers rewards for existing customers who refer others via their mobile app.
Check for promotions – Unitel runs occasional bonus data campaigns via social media. Always good to stay up-to-date on deals.
Being mindful of data usage and taking advantage of Unitel add-ons can significantly save some money when traveling in Laos.
XI. FAQs about Unitel in Laos
Can I watch Netflix with Unitel
You can totally watch Netflix in Laos using your mobile internet! The only thing is, the quality might depend on how good your mobile coverage is. But overall, it works pretty well. Just so you know, the Netflix library in Laos isn't as big as the ones in the US or Europe. So, if you want more options, you can use a VPN to connect to Netflix US and get access to a bunch more movies and TV shows.
Is Unitel's mobile data fast enough for streaming?
Unitel has this cool 4G network that can give you an average speed of 15mbps. That's more than enough to stream stuff in High Definition! So, with Unitel in Laos, you can watch all your favorite videos on Youtube, Facebook, Tiktok, and even Netflix without any problems. Just make sure you have good coverage, and you're good to go!
Does Unitel block or slow down any internet services?
Sometimes, mobile operators like to slow down apps like WhatsApp or Facebook Messenger. They do this because it affects their voice business, since people use these apps to make calls instead of using the regular phone network. But guess what? Unitel is different! They don't slow down any instant messaging apps. And you know what's even cooler? None of the operators in Laos do that either. So, you can use apps like WhatsApp, Viber, Signal, Telegram, or Line to make calls with awesome quality, as long as your mobile coverage is decent.
XII. Final words
So, if you're planning to visit Laos and want to stay connected with your phone, there's a super easy way to do it. You can get a prepaid SIM card or an eSIM card. With Unitel Laos SIM/eSIM, you won't have to worry about online communication on the go.
Enjoy your trip and make lasting memories in this enchanting country with Unitel!