Are you planning to Laos and still looking for a reliable and convenient network. If TPlus Laos SIM card and eSIM is one of your option, which one should you choose?
Discover with us in this article.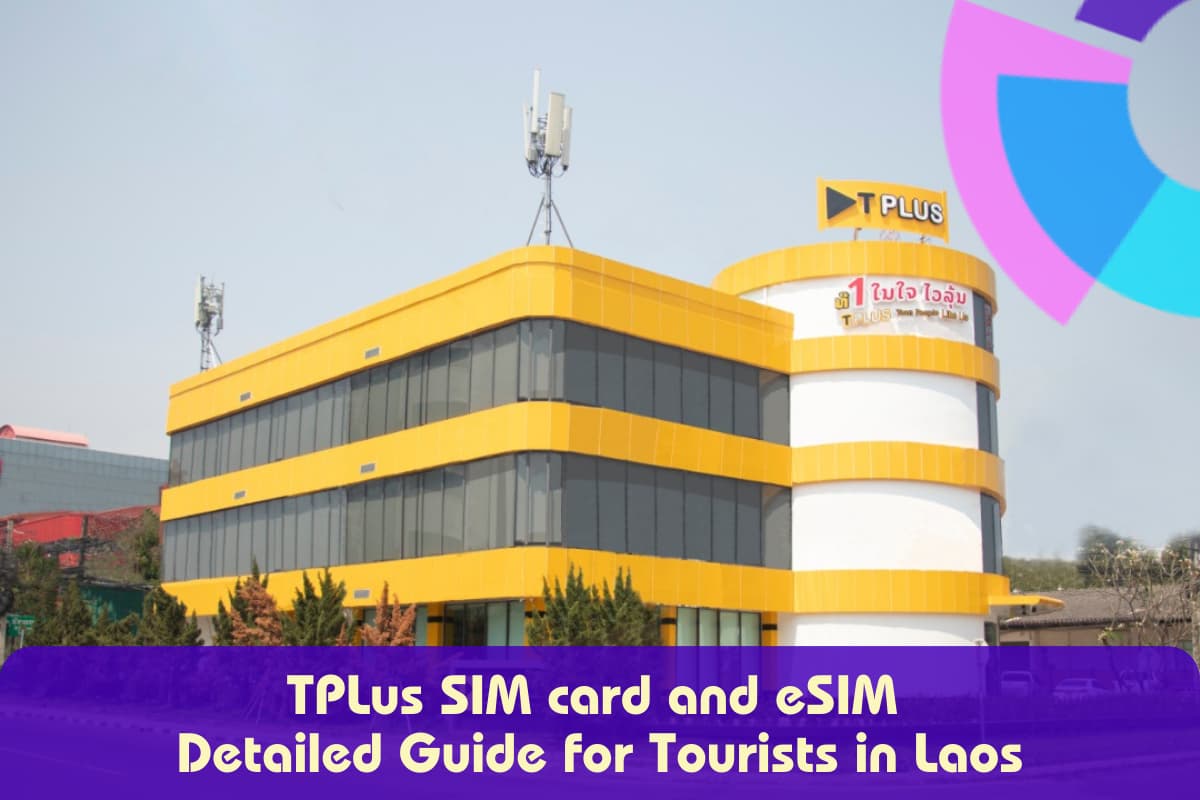 Table of Contents
I. Quick facts about TPlus Laos
TPlus is one of three mobile network operators in Laos, along with Unitel and Lao Telecom. It is also a popular choice among both locals and tourists due to its reliable network and competitive pricing.

Here are some quick facts about TPlus Laos:
It is a subsidiary of Thai mobile giant True Corporation, which has operations across Southeast Asia
Headquarters: Vientiane, it holds a 15 years exclusive license from Lao government
Logo: The logo features a stylized lowercase "t" with curved lines, usually in shades of blue or purple to depict connectivity and modernity
Number of subscribers: As of 2022, TPlus Lao reported over 1 million mobile subscribers across Laos
Marketing emphasizes youthful, digital lifestyle themes to appeal to younger demographic through taglines like "Connected Futures"
II. TPlus Coverage and Speed in Laos
TPlus boats comprehensive coverage of over 80% of Laos's population. TPlus stand out for providing reliable connectivity even in remote areas
1. TPlus Coverage in Laos
TPlus's 3G mobile network currently covers over 80% of Lao's population. However, TPlus first launched 4G services in Laos in 2022, starting in major cities. As of mid 2022, TPlus's 4G network covered about 30-35% of total Laos's population.
You can check map of Lao's population and some popular tourist destinations covered by TPlus below: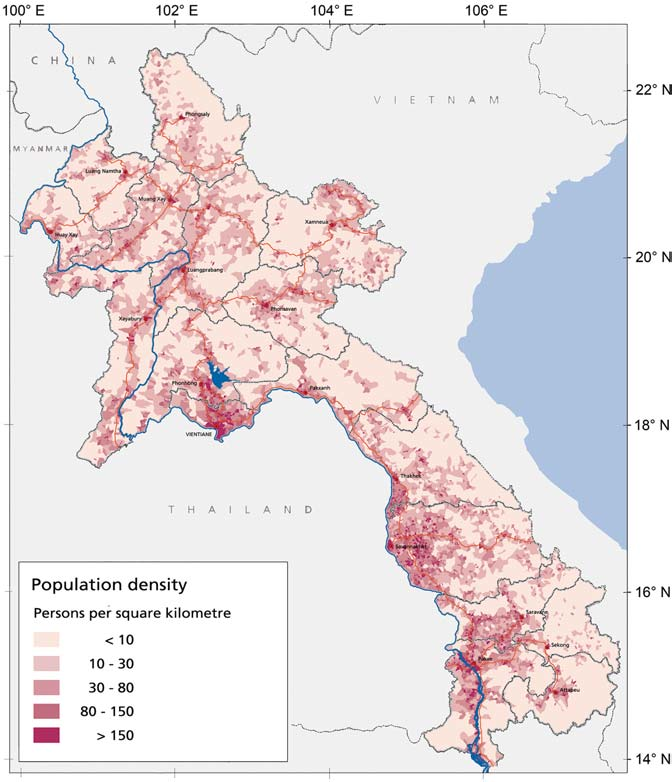 To provide an even better understanding of TPlus coverage, below is a table showcasing some popular tourist destinations and their corresponding TPlus coverage
TPlus Coverage
| | |
| --- | --- |
| Destination | TPlus Coverage |
| Vientiane | ✔️ |
| Luang Prabang | ✔️ |
| Pakse | ✔️ |
| Vang Vieng | ✔️ |
| Champasak Province | ✔️ |
| Plain of Jars | ✔️ |
| 4000 Islands (Si Phan Don) | ✔️ |
2. TPLus Speed in Laos
TPlus operates 3G and 4G/ LTE networks across Laos, with speeds varying based on location and technology available. In major cities with 4G coverage like Vientiane, average speeds range from 15-69 Mbps, on top 3 mobile operator in Laos. This enables HD video streaming and seamless app/ website use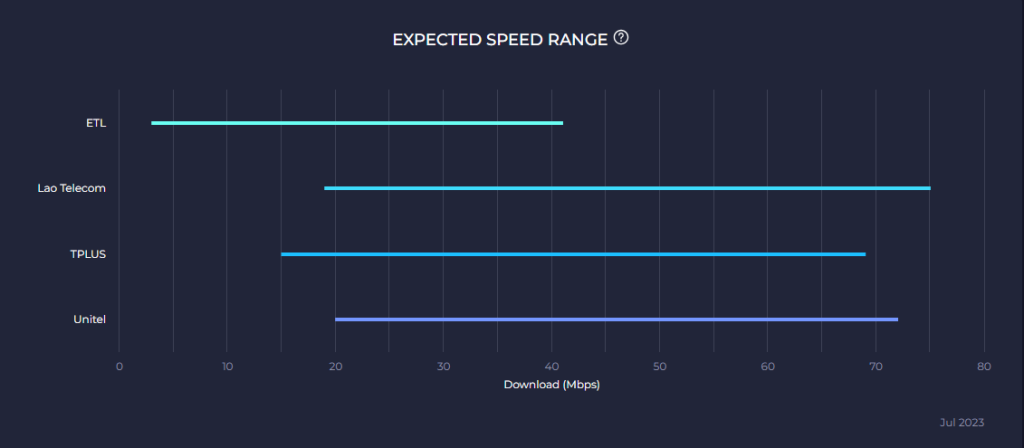 However, 4G speeds can dip below 10 Mbps even in urban areas and in secondary towns. 5G has not been introduced yet by TPlus. So, TPlus speeds are functional but noticeably slower than main rivals, especially outside key urban centers where coverage is also more limited
III. TPlus Laos Connectivity Options for Tourists
TPlus Laos has got you covered with some awesome ways to stay connected like SIM card, Pocket Wifi and Roaming.
Check out detail of these options:
Connectivity Options
| | | | |
| --- | --- | --- | --- |
| | SIM card | Pocket Wifi | Bundles |
| Pros | Cheap starter price ($2 -5) | Can share Wifi signal with others | Maintain your regular number abroad |
| | Affordable data bundles | Useful for long stays or whole group | No changes to usage habits |
| | Works on any locked phone | Uninterrupted connectivity | |
| | | No changing SIM cards | |
| Cons | Only work on one device | Higher rental costs | Expensive |
| | Need compatible phone | Security deposit required | Unable to control if your primary SIM is postpaid |
| | Still rely on mobile network | Limited to single location | |
| | | Battery life concerns | |
Overall, if you choose TPlus network for your travel in Laos, the convenience of prepaid SIM cards make them the best choice for independent travel connectivity in Laos most of the time.
IV. Does TPlus Laos offer eSIM
TPlus launched eSIM support in Laos in early 2022, becoming one of the first operators on this country to do so
If you still want to compare SIM card and eSIM, here are some pros and cons of SIM card and eSIM:
SIM card & eSIM
| | | |
| --- | --- | --- |
| Feature | SIM card | eSIM |
| Pros | Compatible with nearly all phones | No physical card needed |
| | Can be purchased easily locally | Can load multiple profiles on one device |
| | No activation fees | Manage profiles remotely online |
| Cons | Requires insertion in device | Limited to newer flagship devices |
| | Can be lost and damaged | Requires cloud connection for set up |
| | Only one or two SIM per device | Not universally adopted yet |
So SIM cards are affordable and universal solution while eSIM provides benefits of digital management for international travelers and flexibility to change providers. With these convenience, eSIM would be a great choice for tourist.
V. Best TPlus SIM card and eSIM for Tourist
1. Best TPLus Laos SIM card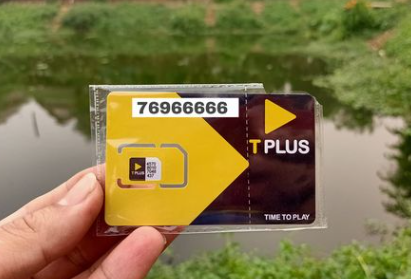 TPlus offers some plans for travel from 7 to 30 days with the price quite reasonable and suitable for tourists.
You can check the some recommends plans below:
SIM card plans
| | | | | |
| --- | --- | --- | --- | --- |
| Package | Validity | Data | Price (Kip) | Price (USD) |
| 7 Day Tourist SIM | 7 days | 5GB | 30,000 kip | $2.30 |
| 15 Day Tourist SIM | 15 days | 10GB | 50,000 kip | $3.80 |
| 30 Day Unlimited SIM | 30 days | Unlimited* | 100,000 kip | $7.70 |
| Flexi Start Plan | 3 days | 1GB | 20,000 kip | $1.50 |
Considering the travel duration, usage flexibility and overall cost- effective – The 15 Day Tourist SIM would be the ideal choice for most tourist while the 30 Day Unlimited SIM is suitable for long trips in Laos
2. Best TPlus Laos eSIM
If you prefer to know about some plans eSIM provided by TPlus, they offer many packages from $4 – $37, valid for from 7 to 30 days. You can check the detail below:
eSIM plans
| | | | | |
| --- | --- | --- | --- | --- |
| Plan Name | Data Allowance | Validity | Price (KIP) | Price (USD) |
| Happy 1GB | 1GB | 7 days | 40,000 | $4.20 |
| Happy 3GB | 3GB | 15 days | 80,000 | $8.40 |
| Happy 5GB | 5GB | 30 days | 150,000 | $15.75 |
| Happy 10GB | 10GB | 30 days | 250,000 | $26.25 |
| Happy 15GB | 15GB | 30 days | 350,000 | $36.75 |
| Happy 30GB | 30GB | 30 days | 500,000 | $52.50 |
| Social Packs | 1-5GB + calls + SMS | 7 days | 20,000+ | $2.10+ |
| Unlimited Social | Unlimited TPlus calls, 100 minutes other networks, 5GB data | 30 days | 100,000 | $10.50 |
The package Happy 5 GB (30 days validity with 10 GB data for $15.75) is highly recommended for tourists. This plan provides a good amount of data to last for most short-term visits. It's suitable for travelers who prioritize connectivity over large data volumes.
VI. Where to buy SIM card in Laos
1. Where to buy TPlus SIM cards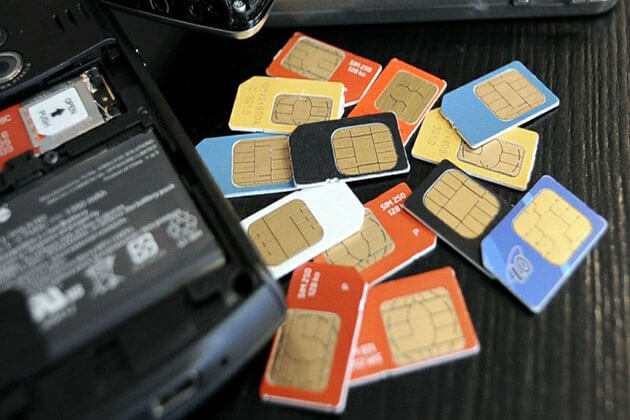 Here are some of the main places where tourists can purchase a TPlus SIM card when visiting Laos:
Flagship stores located in major cities like Vientiane, Luang Prabang, Pakse etc. Offers full selection of plans and helps activating.
7- Eleven convenience stores across Laos sell TPlus prepaid SIM cards alongside other operators. Look for the TPlus display near the cash counter
TPlus has a booth inside the arrivals hall where you can purchase a SIM right after collecting your luggage.
Website option for eSIM plans or delivery of physical SIM cards to addresses in major cities. But not recommended for tourists as it requires a local address for delivery.
So in summary, the most hassle-free option would be 7- Eleven stores which are present nationwide.
A small tips for you guys, wherever you choose to buy your TPlus SIM card, ensure that the retailer is authorized and offers genuine products. This will guarantee a smooth experience and access to TPlus's network services
2. Where to buy TPlus eSIM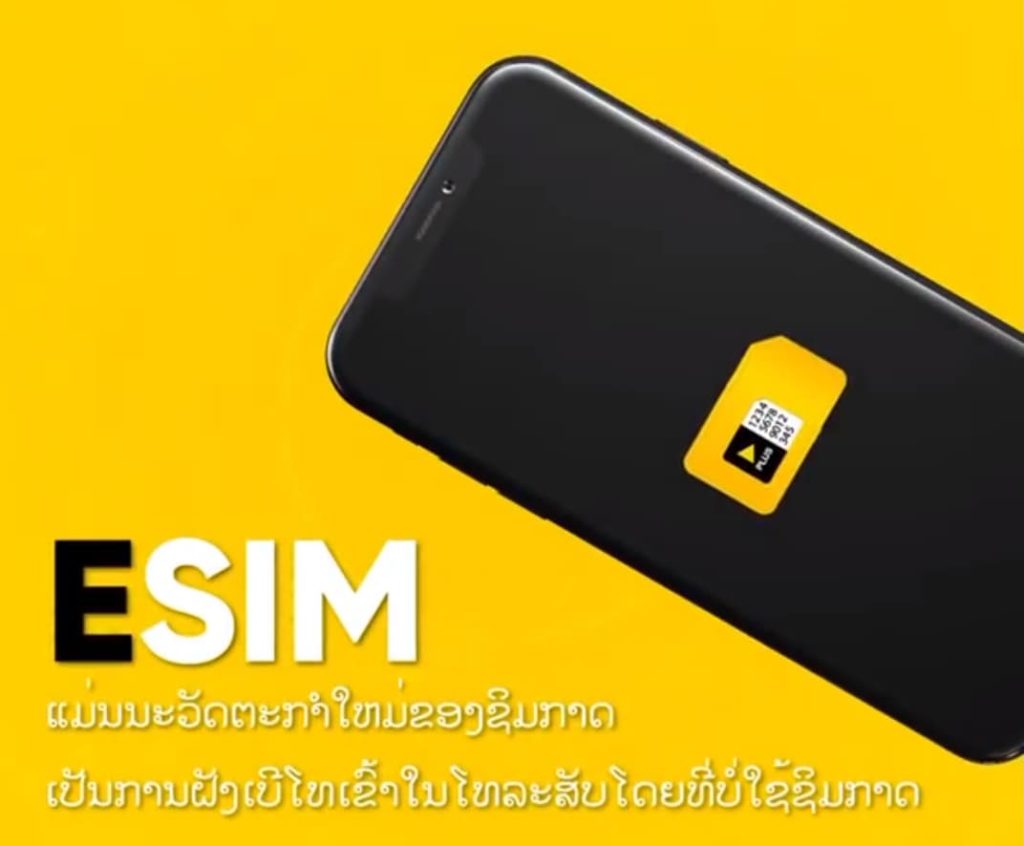 The best place to buy a TPlus eSIM is to get it online and the best time is before your departure, and voila once you land, you can connect to network.
Head to the TPlus website to register and purchase eSIM profiles remotely. Profiles can then be downloaded via the device's settings. Or you can download TPlus Mobile App, it allows signing up and buying eSIM profiles with instant activation on compatible phones.
Here are the basic steps to buy a TPlus eSIM profile through their mobile app:
Open the app and select "Register" to create an account. You'll need a phone number to receive an activation code.
From the app home screen, select "eSIM" then choose a plan like Daily, Weekly or Monthly Flexi.
Review the plan details and fees, then select "Buy" to proceed to payment.
Choose your payment method such as credit/debit card, mobile money, etc. Enter your details. Once successfully paid, the app will guide you to enable eSIM on your device settings.
You can also buy it in TPlus Stores which is in major cities like Vientiane, Luang Prabang offer over-the-counter assistance with eSIM activation and support.
VII. How to activate TPlus SIM card and eSIM
1. How to activate TPlus Laos SIM card
Using a TPlus SIM card is straightforward. Here's a step-by-step guide to help you get started:
Insert the TPlus SIM card into your unlocked device.
Power on your device and wait for it to register with the TPlus network.
In case the SIM card doesn't connect automatically, navigate to the mobile network settings on your device and manually select the TPlus network.
Your TPlus SIM card is now active, and you can start using its voice calling, messaging, and data services.
To ensure optimal usage, consider configuring your device's APN (Access Point Name) settings with the correct details provided by TPlus. This will ensure that you have the right network settings for accessing the internet and other TPlus services.
2.How to set up and activate TPlus Laos eSIM
Activating a TPlus eSIM involves a slightly different process compared to a physical SIM card. Follow these steps to set up and activate your TPlus eSIM:
Install the eSIM
Activate the eSIM
Set up the eSIM
Start using the eSIM: Once the eSIM is activated and set up, you can start using to make calls, send texts and access mobile data.
In some cases, you may need to restart your device after activating the TPlus eSIM to establish a stable connection. If you experience any issues, consult the device manufacturer's instructions or seek assistance from a TPlus retail store.
💡Note: Please check your detailed instructions below:
VIII. How to Top-up your TPlus Laos SIM card
TPlus offers various convenient methods for top up your SIM card. Let's explore the most common options:
1. Vouchers and Scratch Cards
Vouchers and scratch cards are widely available at convenience stores, TPlus retail stores, and authorized resellers throughout Laos. These cards typically have a unique code printed on them, which you can redeem to add credit to your TPlus account. Follow the instructions provided with the voucher or scratch card to complete the top-up process.
2. Online Top- up
TPlus also provides customers with the option to top up online through their website or mobile app. Simply access the TPlus website or app, select the top-up option, and follow the instructions to complete the transaction securely.
The exact top-up process may vary depending on the platform or payment method you choose. Always ensure that you're using authorized channels when topping up your TPlus SIM card to avoid any fraudulent transactions.
IX. How to check TPlus Balance
To keep track of your usage and available balance, TPlus provides several methods for checking your account balance. Here are the most common ways to check your TPlus balance:
1. USSD Code
Using your TPlus SIM card, dial *200# to access the balance inquiry menu. You will receive an SMS containing your current balance and any active plans or promotions associated with your account.
USSD Codes
| | |
| --- | --- |
| USSD Code | Description |
| *123# | Check data balance |
| *168# | Check balance and validity |
| 1231# | Check SMS balance |
| 1232# | Check call balance |
| 1233# | Check package information |
| 1113# | Recharge with voucher PIN |
| 1115*amount# | Direct top up with balance |
| 1234# | Top up/payment history |
| 1111# | Check offers and packages |
| 1230# | Payment services |
| 1117# | Profile update |
2. TPlus Mobile App
Download the official TPlus mobile app from the App Store or Google Play Store. Once installed, log in using your TPlus account details to view your balance, data usage, and other account information conveniently.
3. Customer Service Hotline
Contacting TPlus customer service is another way to inquire about your balance or resolve any account-related queries. Dial the TPlus customer service hotline *101#, which can be found on their website, and follow the voice prompts to reach a support representative who can assist you.
These methods ensure that you stay informed about your TPlus balance, enabling you to manage your usage and recharge as needed during your visit to Laos.
X. Call & SMS rates of TPlus Laos
TPlus offers affordable call & SMS bundles as well for better value. Rates are lower than postpaid plans and competitive against other telcos in Laos.
1. Local Calls and SMS
Local Call & SMS rates
| | | | |
| --- | --- | --- | --- |
| Service Provider | Call/SMS Destination | Rate (LAK/minute or SMS) | Rate (USD/minute or SMS) |
| TPlus | TPlus | 150 LAK | $0.007 |
| TPlus | Other Lao networks | 200 LAK | $0.01 |
2. International Calls and SMS
TPlus offers competitive rates for international calls and SMS. Rates may vary depending on the country you're calling or messaging
Here are the standard international call and SMS rates on the TPlus network in Laos:
International Calls & SMS rates
| | | |
| --- | --- | --- |
| Destination | Call Rate (LAK/minute) | SMS Rate (LAK/message) |
| Thailand | 300 LAK | $0.015 |
| Vietnam | 500 LAK | $0.025 |
| China | 800 LAK | $0.04 |
| USA/Canada | 1,500 LAK | $0.075 |
| Europe | 1,500 LAK | $0.075 |
| Australia | 2,000 LAK | $0.10 |
It's worth noting that some TPlus plans include free or discounted international calling minutes, making it even more cost-effective for travelers who need to stay connected with friends and family abroad. You can check the detail:
Free/ Discounted plans
| | | | |
| --- | --- | --- | --- |
| Plan | Validity | Free/Discounted International Call Minutes | Standard Rate |
| 30 Day Unlimited SIM | 30 Days | 60 minutes | $0.75/min |
| 15 Day Plan | 15 Days | 30 minutes | $0.75/min |
| Weekly Plan | 1 Week | 10 minutes | $0.75/min |
XI. TPlus Laos Alternatives for Tourist
While TPlus has attempted to compete with the dominant players in the Laos telecom market, it continues to face significant limitations that impair the user experience. Most notably, its cellular network coverage remains patchy and unreliable outside major population centers. This can leave travelers in remote areas struggling to get online or make important calls. As a result, streaming multimedia or using bandwidth-heavy apps can be frustrating.
Unitel in particular stands out as the superior choice, with its fast and dependable nationwide 4G/LTE coverage delivering high speeds almost everywhere in the country. In this case, Unitel SIM card or eSIM may be a better choice.
Laoesim is recognized as a leading provider of eSIM plans on the Unitel network in Laos, offering travelers several beneficial features. Some of the key advantages they provide include:
Diversity plan options
Competitive pricing that provides good value
Quick support through WhatsApp, Facebook and Email
Check our Unitel eSIM plans as alternatives for Lao Telecom SIMs below:
Unitel eSIM plans
| | | | |
| --- | --- | --- | --- |
| Plan Name | Data Allowance | Price | Validity |
| Classic 1 Day | 500MB | $1.50 | 1 day |
| Weekly | 1.5GB | $5 | 7 days |
| Monthly Lite | 3GB | $10 | 30 days |
| Monthly Classic | 5GB | $15 | 30 days |
| Monthly Plus | 10GB | $20 | 30 days |
| 3 Month Basic | 15GB | $35 | 90 days |
| 6 Month Standard | 30GB | $60 | 180 days |
Through offerings such as a wide selection of plans at competitive rates, and readily available customer support, Laoesim is able to deliver an excellent eSIM experience on Unitel's high-quality network for travelers in Laos.
Some of their top value plan options are: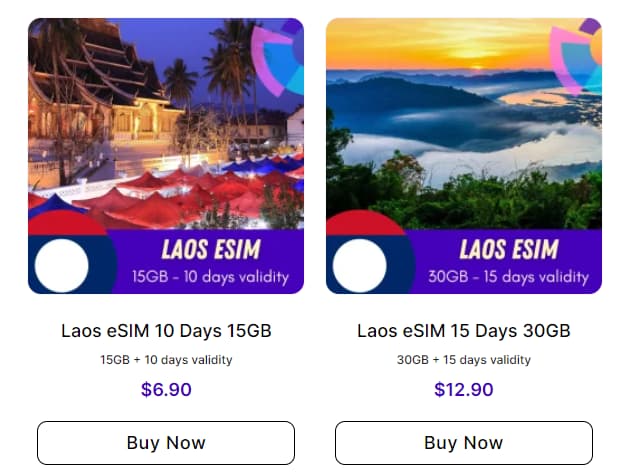 👉eSIM tips: Before getting started with the eSIM purchase, please make sure that your phone is carrier-unlocked and eSIM-compatible. In case you are not sure in this regard, please check eSIM-compatible device list.

XII. FAQs about TPlus Laos
Can I use my TPlus SIM card outside of Laos?
TPlus SIM cards are typically designed for use within Laos. Their network and prepaid plans are not international roaming enabled. So when you travel outside of Laos with a TPlus SIM card, it will show "No Service" as the phone tries to connect to unavailable network abroad.
Can I keep my TPlus SIM card for future visits to Laos?
Yes, you can retain your TPlus SIM card for future visits to Laos. However, note that prepaid SIM cards often have an expiration period if left unused for an extended period. To ensure uninterrupted services, top up your TPlus SIM card before its expiration date or inquire with TPlus customer support for further information.
Can I share data from my TPlus SIM card with other devices?
Yes, TPlus offers data sharing features that allow you to share your mobile data with other devices, such as tablets or laptops. To utilize this feature, ensure that your device supports tethering or hotspot functionality and follow the instructions provided by TPlus for activating data sharing.
If you have specific needs or require a larger data allowance, TPlus also offers various data add-on packages. These packages allow you to extend your data allowance at affordable rates, ensuring that you stay connected throughout your trip.
XIII. Final words
TPlus SIM and eSIM offer an excellent mobile network solution for tourists visiting Laos. By selecting TPlus as your mobile network, you'll enjoy seamless connectivity, allowing you to share memorable moments, navigate unfamiliar territories, and stay connected with loved ones back home.
So, enjoy and make lasting memories in this beautiful country!