Buying a Laos SIM Card at Wattay Airport (Vientiane) is a wise choice for travelers landing at this international airport in Laos without a way to stay connected for the trip.
Wattay International Airport, located in Vientiane is the main gateway to Laos. Travelers arriving at Wattay are treated to graceful Laotian architecture featuring soaring slanted roofs upon entry into the compact but efficient terminals. To stay connected during your visit, you can purchase a SIM card upon arrival.
Let's review this guide to find your own SIM card at Wattay Airport.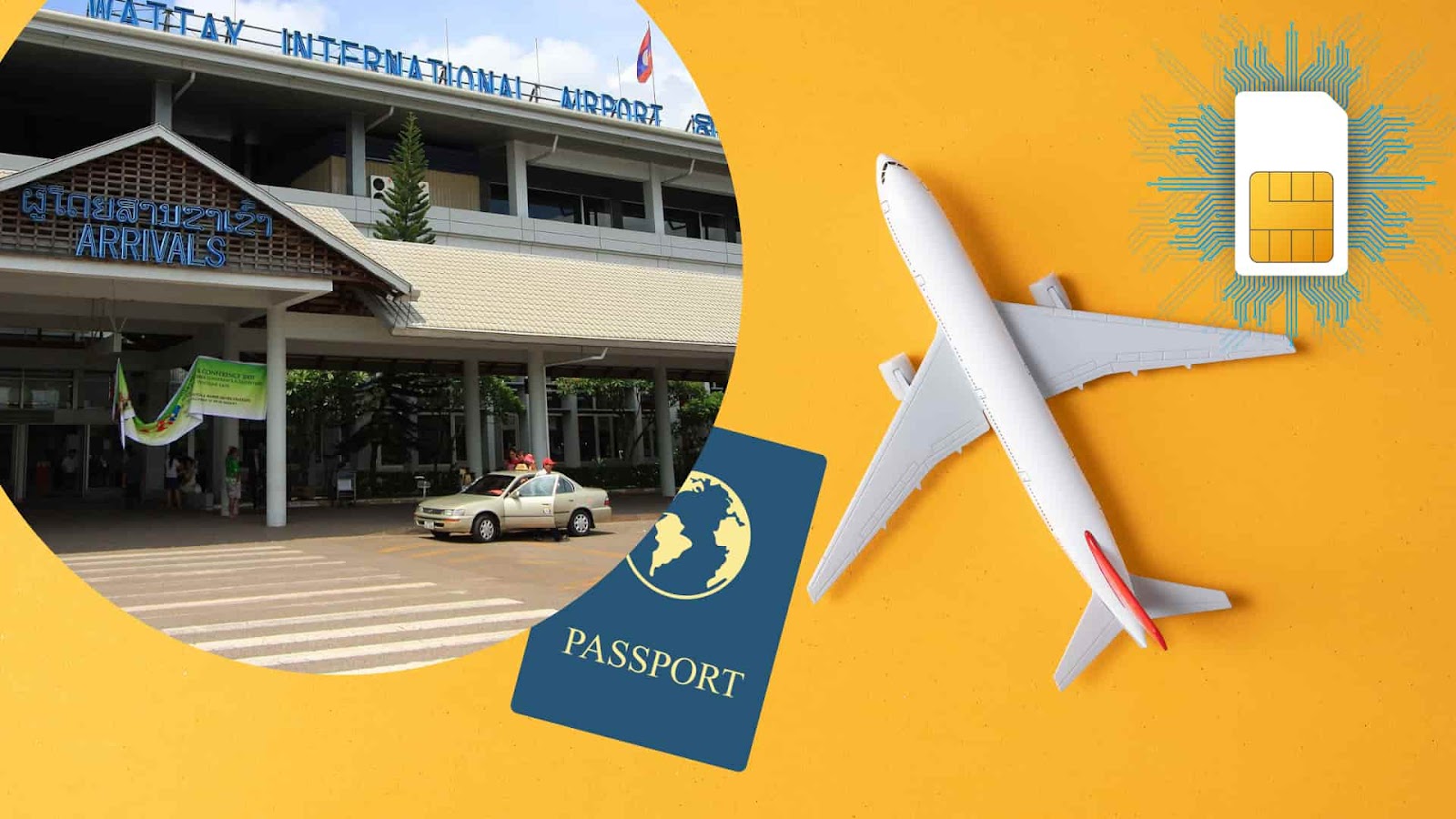 Table of Contents
I. Where to Buy a SIM Card at Wattay Airport
Wattay International Airport serves as the primary entry point into Laos for both international and domestic travelers. Upon disembarking at the airport, visitors have convenient access to purchase SIM cards from various mobile providers. Staying connected during your visit is easy by choosing from some of the most popular options available at Wattay Airport:
1. Unitel SIM card at Wattay Airport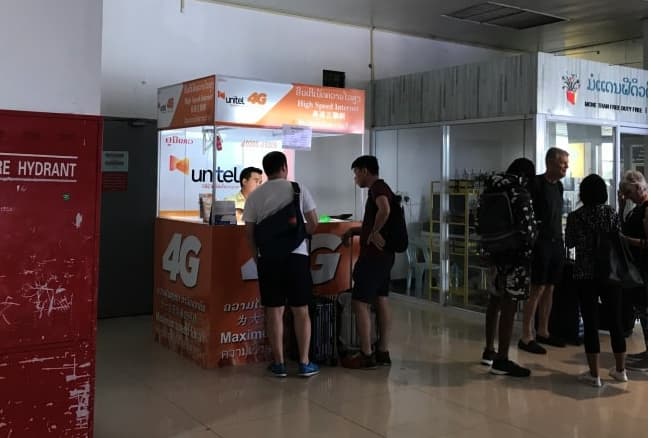 Unitel is one of the leading telecommunications companies in Laos, offering a wide range of mobile services. The prepaid SIM cards offered by Unitel are contrasted below:
Unitel Shop Location: After passing through immigration, there is a Unitel shop located before baggage claim in the arrivals hall.
Shop Hours: The shop is open daily from 7am to 9pm to coincide with flight schedules.
👉Look for the bright blue Unitel shop signs near baggage claim for a quick SIM purchase on arrival with Wattay Airport.
Unitel SIM card prices for tourists range from around 70.000 LAK ($3.5) up to 250.000 LAK ($12.35). The 7-day and 15-day plans are very popular choices for shorter trips.
2. Lao Telecom (LTC) SIM at Vientiane Airport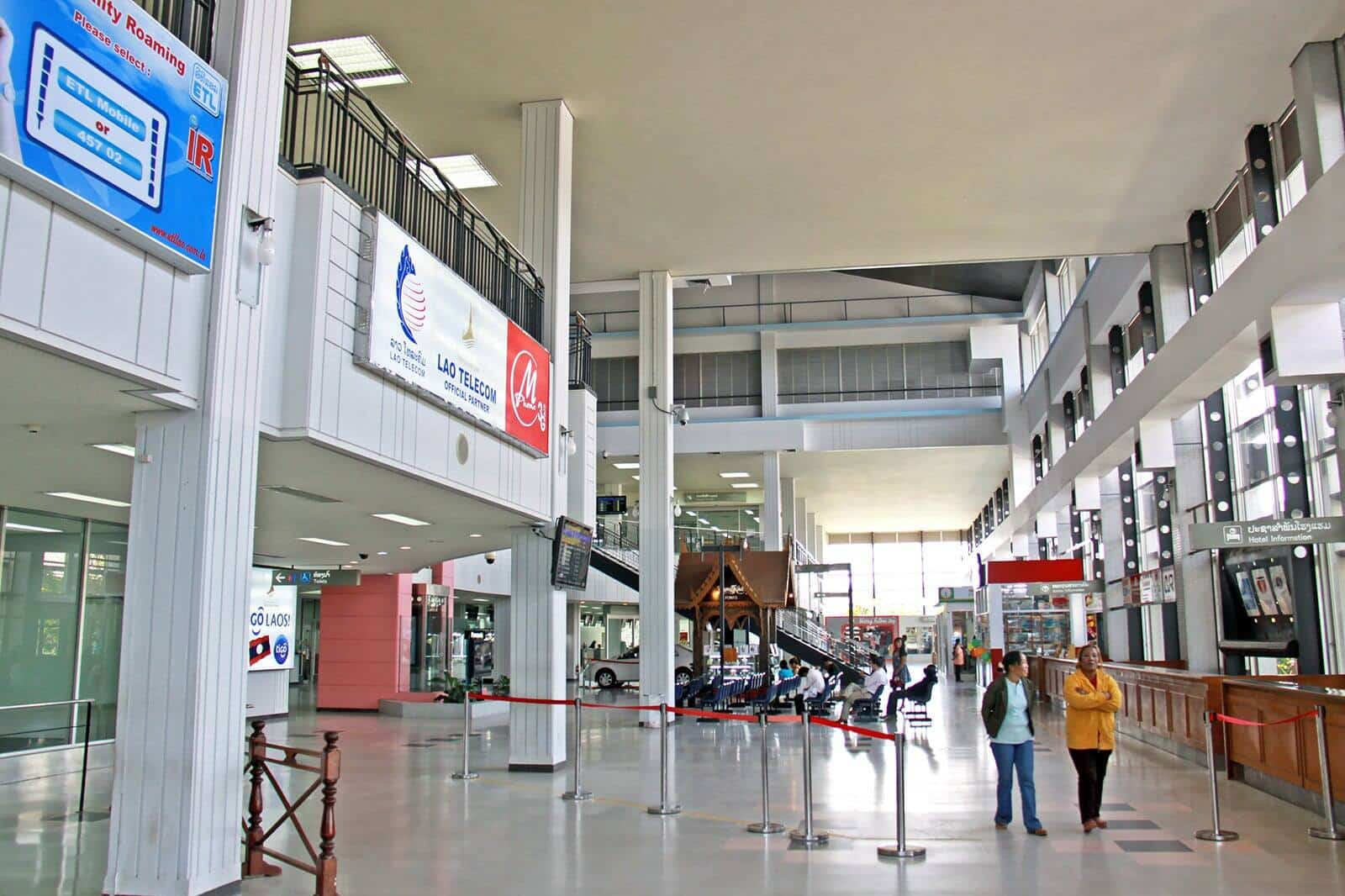 Lao Telecom is another prominent telecom operator in Laos. They offer affordable and reliable mobile services, making them a popular choice among locals and tourists alike. Here are some places for you:
Lao Telecom Shop Location: After immigration, turn left and walk towards the exit doors. The Lao Telecom shop is located just before exiting the airport terminal building.
Shop Hours: Open daily from 7am to 9pm to coincide with flight schedules.
👉Head to the Lao Telecom shop near the airport exit doors after immigration for a prepaid SIM convenient for your travels in Laos.
The 7-day and 15-day packages at 60,000 – 100,000 LAK ($2.96 – $4.95) are good value options for short trips.
3. ETL SIM at Vientiane Wattay Airport
ETL (Enterprise of Telecommunications Lao) is a state-owned telecom operator in Laos. They offer competitive rates and coverage across major cities and towns in Laos.
Here are some options for buying an ETL SIM card at Wattay International Airport in Vientiane, Laos:
ETL Service Counter – There is an ETL service counter located just after leaving the arrival area inside the airport terminal building. You can purchase ETL prepaid SIM cards here.
ETL Partner Shop – A small shop affiliated with ETL operates near the carousel area for luggage collection. Look for the ETL logo to find SIM cards and recharge vouchers for sale.
Airport Merchants – Independent merchants set up carts and kiosks throughout the public areas of the airport selling various goods including ETL SIM cards. Check near the entrance/exit gates.
7-Eleven – There is a 7-Eleven convenience store located across from the domestic terminal that stocks ETL prepaid cards. This is a commonly found ETL partner retailer.
Most major points of purchase accept cash only. Be sure to have small Lao kip banknotes on hand to purchase an ETL SIM seamlessly after you land in Vientiane.
ETL SIMs tend to be among the most affordable options for tourists. Its prices range from 50,000 LAK ($2.47) up to 300,000 LAK ($15)
4. TPlus SIM at Vientiane Wattay Airport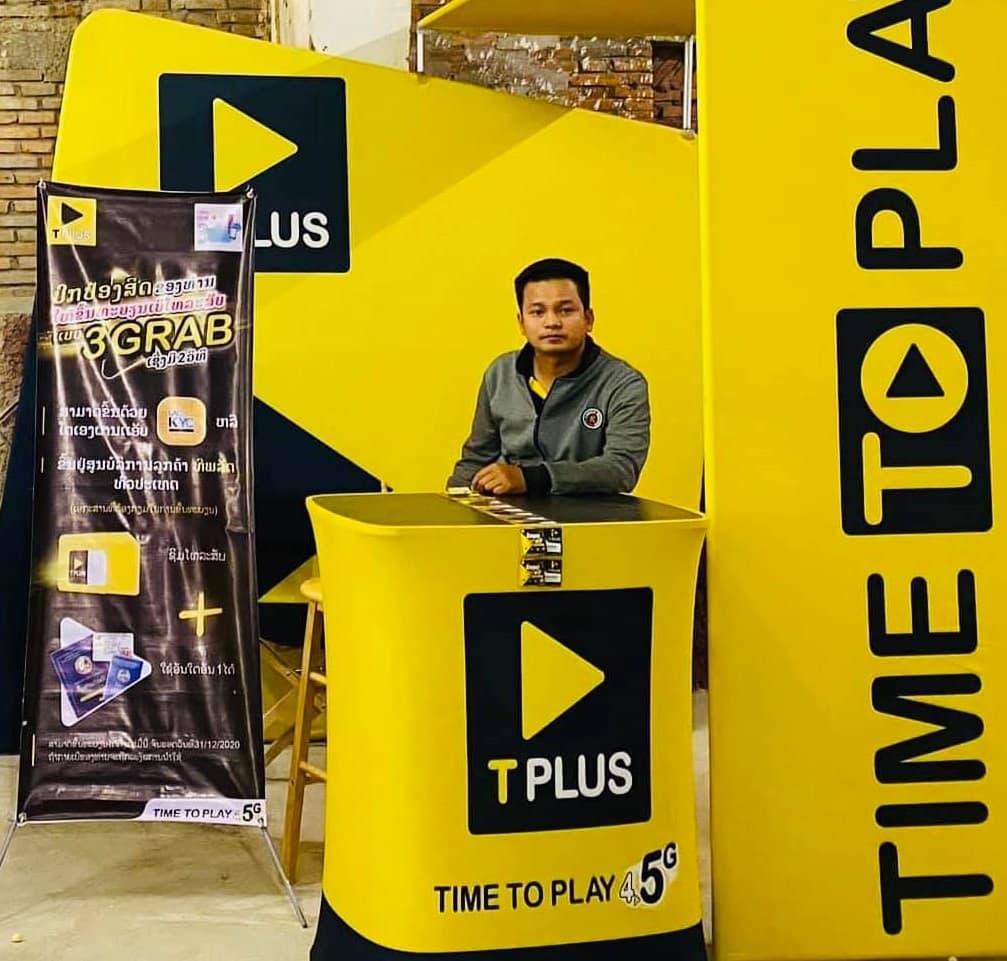 Despite being a smaller operator compared to the others mentioned above, TPlus has been gaining popularity for its affordable data plans and reliable network. You can find it at Wattay Airport, making it convenient to get a SIM card upon arrival, let's check below:
TPlus Service Counter – Located after immigration inside the main airport terminal. Offers SIM cards, plans, and recharge vouchers.
Corner Shop – A small shop in the corner of the arrival hall near the carousels selling TPlus SIM packages. Look for their signs.
Airport Kiosks – Various kiosks and vendors throughout the public areas may have TPlus starter packs and loads available. Check near exits.
Street vendors – Those selling SIM cards and credit outside airports could have TPlus, though selection varies.
Having Lao kip on hand makes purchasing a SIM easier. Service counters/official stores tend to be the most reliable options for assistance post-purchase.
TPlus SIMs prices range from 10,000 LAK ($0.5) for the SIM only without data up to 250,000 LAK ($12.35) for 12 GB data and valid for 90 days.
🔎 Don't know which mobile operator to go ahead, check Best mobile operators in Laos!
II. What You Need to Prepare for Getting a SIM Card at Wattay Airport
Before heading to the airport, there are a few things you should prepare to ensure a smooth SIM card purchase process:
Passport: Make sure to bring your passport as it is required for registration purposes when purchasing a SIM card in Laos.
Cash: Most SIM card vendors at Wattay Airport accept cash payments, so it's advisable to have some local currency (Lao kip) or US dollars on hand.
Unlocked Phone: Ensure that your phone is unlocked and compatible with the networks in Laos. This will allow you to use a local SIM card seamlessly
Understanding your phone's SIM card requirements: To ensure you get the correct size SIM card, you need to understand what type of SIM card your phone requires (standard, micro, or nano). Checking this specification is important before purchasing a SIM card.
Understanding the various plan options: It is helpful to be aware of the type of plan that best suits your needs, considering data allowance, call minutes, text allowance and validity period. Evaluating these key factors will help you select the most suitable plan within your budget that caters to your telecommunication needs during your visit.
III. eSIM as an Alternative to SIM Card at Vientiane Wattay Airport Laos
If you are heading to Laos for a short time, around 5, 10 or 15 days, and want to avoid the hassle of removing your primary SIM and inserting the new SIM Card for Laos, buying a eSIM for Laos should be a great choice.
With eSIM, you:
don't need to remove your primary SIM
can buy online anywhere, at the airport, or even at your home country before your flight without staying in any queue, and
don't need to register KYC (personal information).
Even if you need a Lao phone number, an eSIM also works.
Check out the best 2 Laos eSIM plans provided by Laosesim below: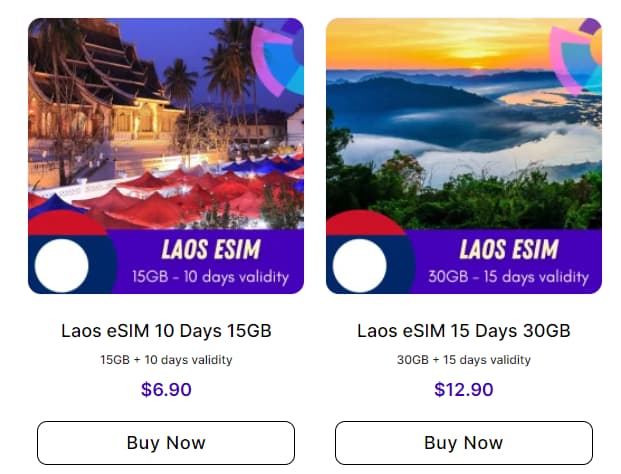 👉Tips: eSIM is very convenient in terms of use, but it has a minor advantages is that it does not work on all phones, but the newer phone modes, from iPhone Xs, or Samsung Galaxy S20, …. You should carefully check the eSIM-compatible device list and make sure your device is unlocked before buying the eSIM.
IV. FAQs
Can I buy a SIM card at Vientiane Airport if my landing is at night?
The airport has SIM card kiosks that open daily. They generally operate during regular airport hours which are typically 7am to 9pm or later. However, the kiosks/shops may have reduced hours late at night after the last few flights have arrived. At least one shop is often open to around midnight to serve passengers from late arriving international flights. So, it is possible to buy a SIM card if your landing at night.
What payment methods do they accept?
Most stalls accept cash (LAK or USD) but may not take credit cards late at night. Have small LAK banknotes ready. Some stalls accept cards during the day.
Can I get help with my SIM after leaving the airport?
Yes, the network stores in town can assist with top ups, replacing SIMs, checking balances etc.
V. Final Words
Getting a SIM card at Wattay Airport is a straightforward process that allows you to stay connected throughout your visit to Laos. By choosing from the available providers such as Unitel, Lao Telecom, ETL, or TPlus, you can find a suitable SIM card that meets your communication needs.
You may also save time and money by purchasing an eSIM before arriving by purchasing from trustworthy sources such as laosesim.com. Have a pleasant and safe journey!