Thinking about a trip to Laos but not sure whether to get a Lao Telecom SIM card? We've got you covered.
Discover our recommendation in this article.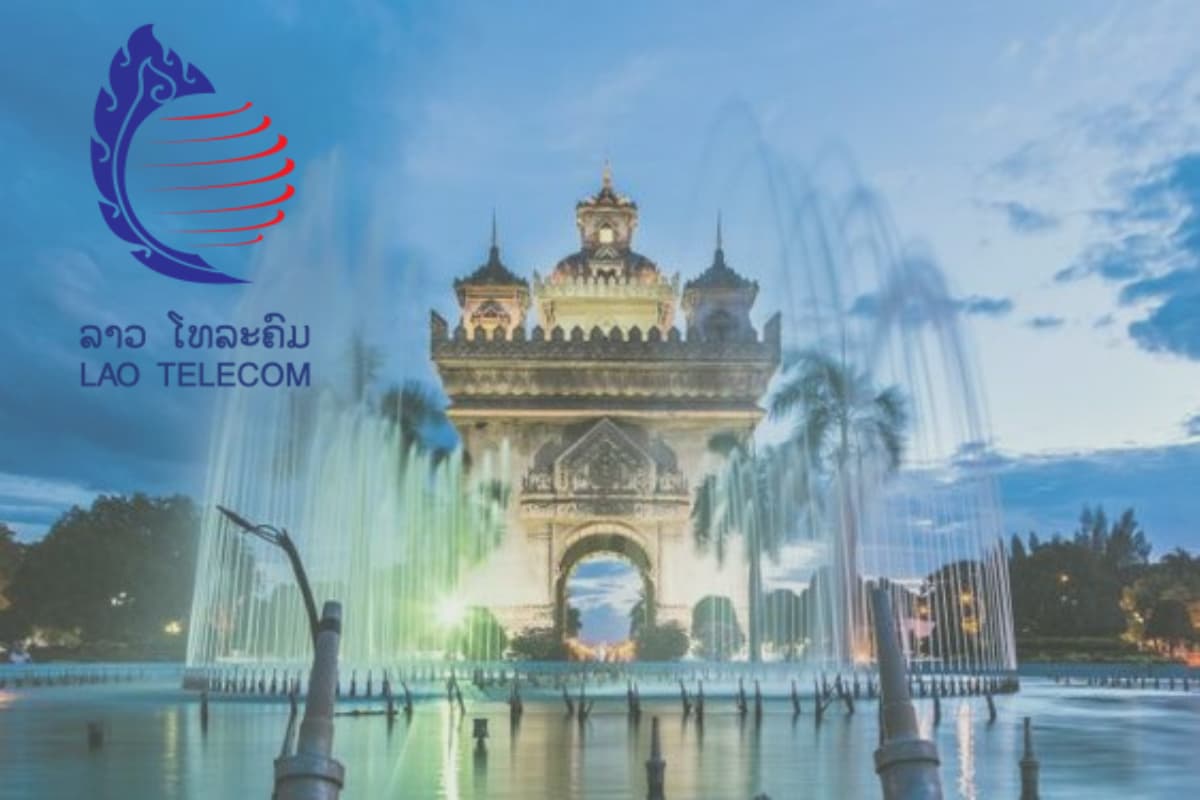 Table of Contents
I. Quick Facts about Lao Telecom
Lao Telecom is the leading telecommunications service provider in Laos, the second largest mobile network operator in Laos after Unitel Laos:
Here are some facts about Lao Telecom (LTC):
Ownership: Lao Telecom is state-owned and partially privatized, with ownership by state and foreign telcos
Brand name: Tropika
Headquarters: Vientiane
Established: 1979
Number of subscribers: Over 2 million mobile subscribers nationwide in 2022
Service providing: Mobile, landline, broadband, IPTV
Lao Telecom provides solid national coverage, it may not be the "greatest" choice in terms of network size/ speed. But for reliable basic connectivity across Laos at affordable prepaid prices, it remains a good local option for tourist.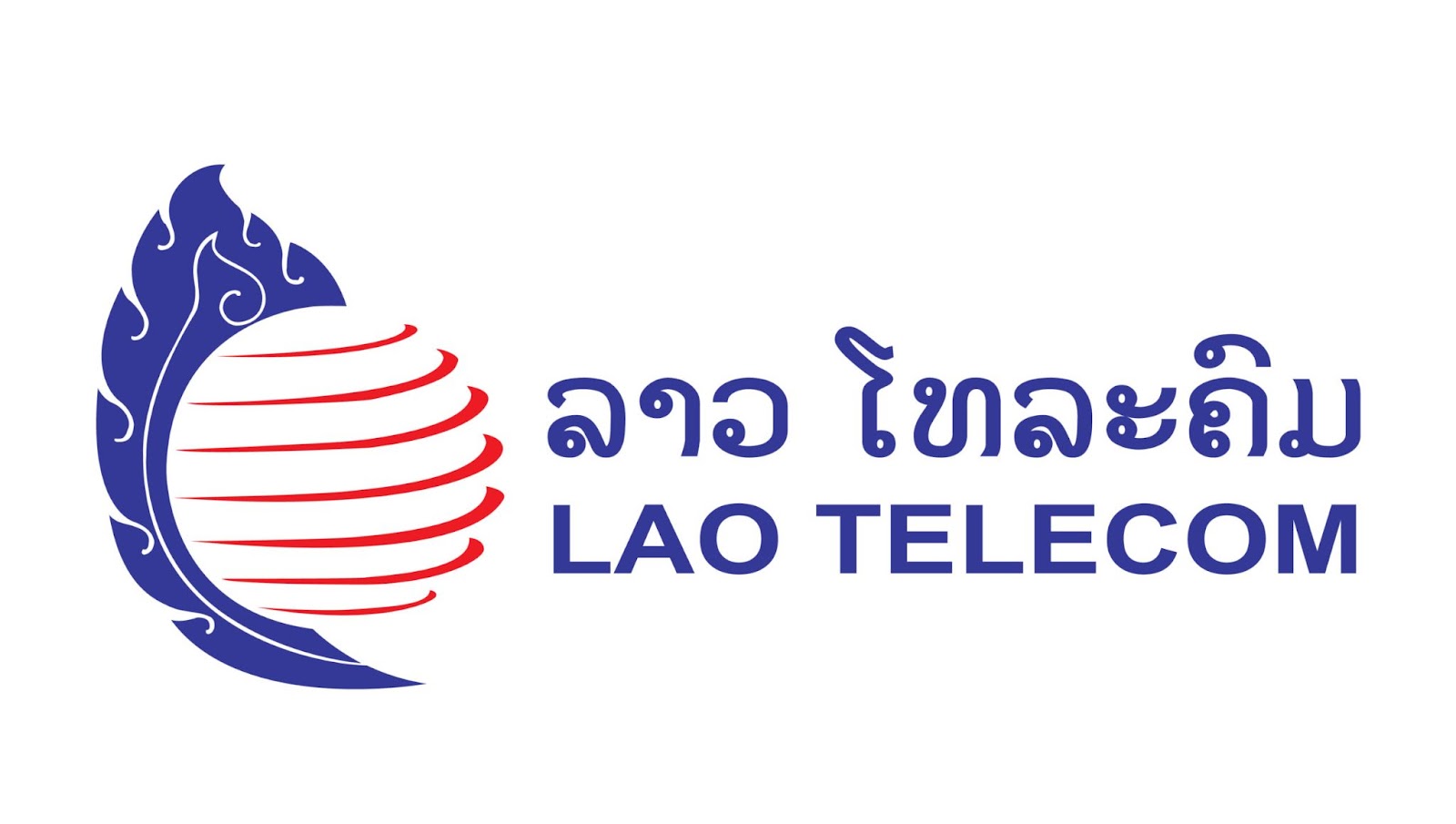 II. Lao Telecom Coverage and Speeds
Lao Telecom offers extensive coverage across Laos, achieving coverage of over 90% of Laos's population. Whether you are exploring the bustling street of Vientiane or venturing into the picturesque countryside, you can expect to have a stable connection with Lao Telecom.
1. Lao Telecom Coverage
You can check out their coverage map with service cover up to 90% of Lao's population: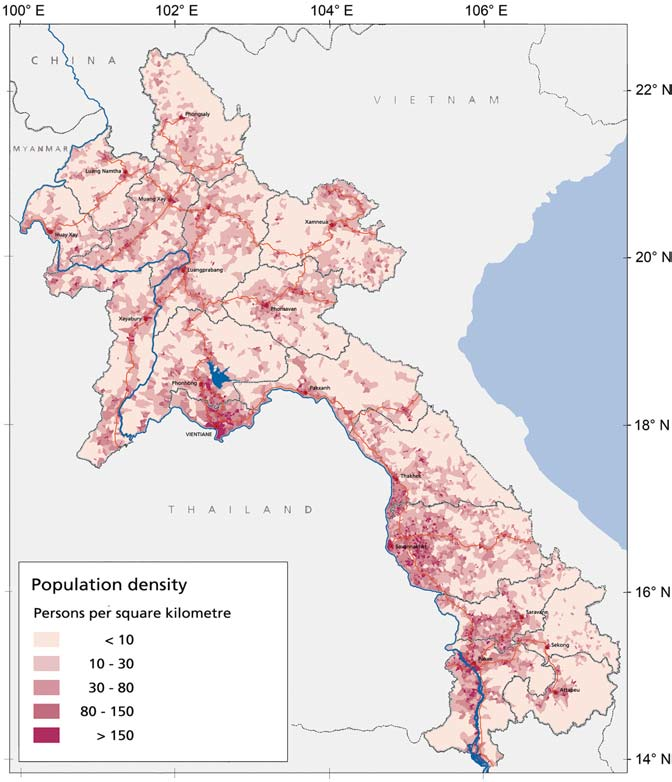 So, you can found that this map shows how Lao Telecom has a quite big network, 4G/LTE covers lots of places, in major cities and countryside areas. 5G coverage is slowly expanding but you can still use it in some areas of key urban for now like Vientiane.
Most of the time, people say that they can browse the internet pretty fast and stay connected without any problems. This means you can easily do stuff like check out social media, watch videos, or even play games online.
2. Lao Telecom Speeds

According to this result, Lao Telecom got this 4G/LTE network that's lightning fast in major population in Laos, with Download speed is 19.03 Mb/s and Upload speed is 10.19 MB/s, it means you can browse the web, watch videos, and use apps smoothly.
Though Laos' primary network, coverage relies heavily on older 2G/ 3G technologies, it not as fast as newer 4G/5G. So if you want to visit to rural villages or natural attractions, this mobile operators is not a best choice
III. Lao Telecom Connectivity Options for Tourists
Lao Telecom has got you covered with some awesome ways to stay connected include SIM card, Pocket Wifi and Roaming, so you can choose according to your needs. Check out these options:
Connectivity Options
| | | |
| --- | --- | --- |
| Option | Pros | Cons |
| SIM Cards | Price quite affordable (from $3- $50) | No Wifi hotspot |
| | Widest 2G, 3G coverage nationwide | Limited by cellular connection |
| Pocket Wifi | Provides Wifi hotspot | Higher rental cost than SIM ($25-$100) |
| | No SIM needed | Device need to be returned |
| Roaming | No need to add new SIM, but only your primaty SIM only | Expensive, difficult to control if your primary SIMs is postpaid |
SIM card is the ideal option for travelers while pocket works well for groups staying in one place, bundles provide cost control but have fixed data limits versus pay-as-you-go SIM cards.
Overall, SIM card is a good simple choice for many casual tourists.
IV. Best Lao Telecom SIM card and eSIM for Tourists
When visiting Laos, travelers have a choice with Lao Telecom providing SIM cards or eSIM access. This allows customizing the solution based on your device and travel durations. Belows are the details for you:
1. Best Lao Telecom SIM card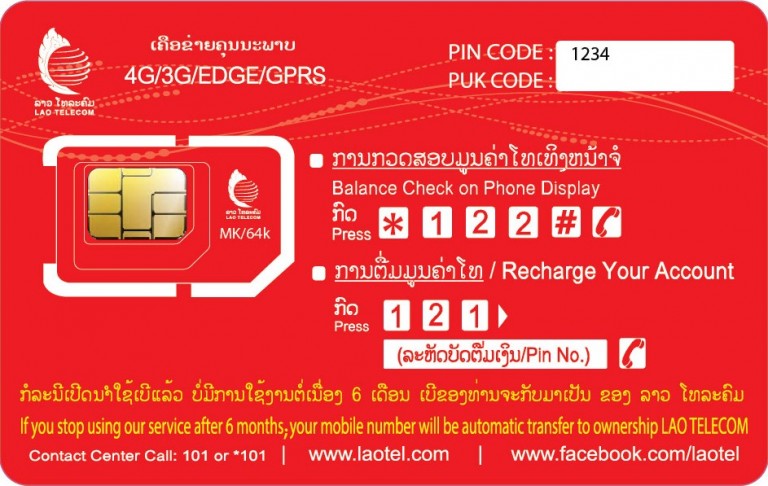 Lao Telecom prepaid SIM cards provide reliable and affordable mobile access suitable for most tourist needs and usage durations when traveling in Laos
You can check some recommends plans:
SIM card plans
| | | | | |
| --- | --- | --- | --- | --- |
| Plan | Data Allowance | Validity | Price (Kip) | Best For |
| 7 Day Plan | 2GB/day | 7 days | 70,000 kip | $7 |
| 15 Day Plan | 2GB/day | 15 days | 120,000 kip | $12 |
| 30 Day Plan | 3GB/day | 30 days | 200,000 kip | $20 |
| Data-Only SIM | Varies | 30 days | 30,000 kip+ | Data use only |
Overall, the 15 Day Plan SIM would suit most travelers needs on cost and validity while the 30 Day Plan is best for long trips
Lao Telecom offer postpaid plans with SIM cards, which called Combo Plans and come with a monthly fee. It's quite suitable for those needing contractual monthly bundles and bills for business or long stay. But prepaid remains the best fit for most travelers.
2. Best Lao Telecom eSIM
If you prefer the convenience of an eSIM rather than a physical SIM card, Lao Telecom also offers eSIM plans for tourists. An eSIM is a digital SIM card that allows you to activate a mobile plan without needing a physical SIM card.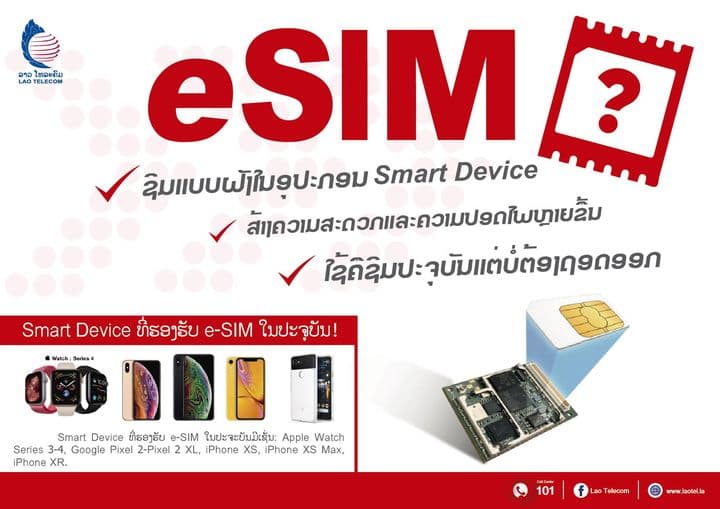 You can check the Lao Telecom eSIM plans below:
eSIM plans
| | | | |
| --- | --- | --- | --- |
| Plan Name | Data Allotment | Validity Period | Price |
| 15-Day Flexi eSIM Plan | 3GB | 15 days | $14.99 |
| 30-Day Flexi eSIM Plan | 6GB | 30 days | $19.99 |
| 7-Day Flexi eSIM Plan | 2GB | 7 days | $9.99 |
The 15-Day and 30-Day Flexi eSIM plans provide good value for medium to long trips due to data, validity and ease-of-use. The 7-Day plan is suitable for shorter stays.
V. Does Lao Telecom offer eSIM
Yes, Lao Telecom launched support for eSIMs in late 2020, making them one of the earlier operators in Southeast Asia to do so.
If you are still confusing for the best choice. Let's compare the physical SIM and eSIM
SIM card & eSIM
| | | |
| --- | --- | --- |
| Feature | SIM card | eSIM |
| Pros | Compatible with nearly all phones | No physical card needed |
| | Can be purchased easily locally | Can load multiple profiles on one device |
| | No activation fees | Manage profiles remotely online |
| Cons | Requires insertion in device | Limited to newer flagship devices |
| | Can be lost and damaged | Requires cloud connection for set up |
| | Only one or two SIM per device | Not universally adopted yet |
In summary, eSIM eliminates physical SIM hassles but needs a compatible smart device. Besides, eSIM provides advantages for international travelers and flexibility to change providers. So with these convenience, eSIM is a great choice for tourist
VI. Where to Buy SIM cards in Laos
1. Where to buy Lao Telecom SIM card
In Laos, you can buy SIM cards from various sources, including the following:
Airport: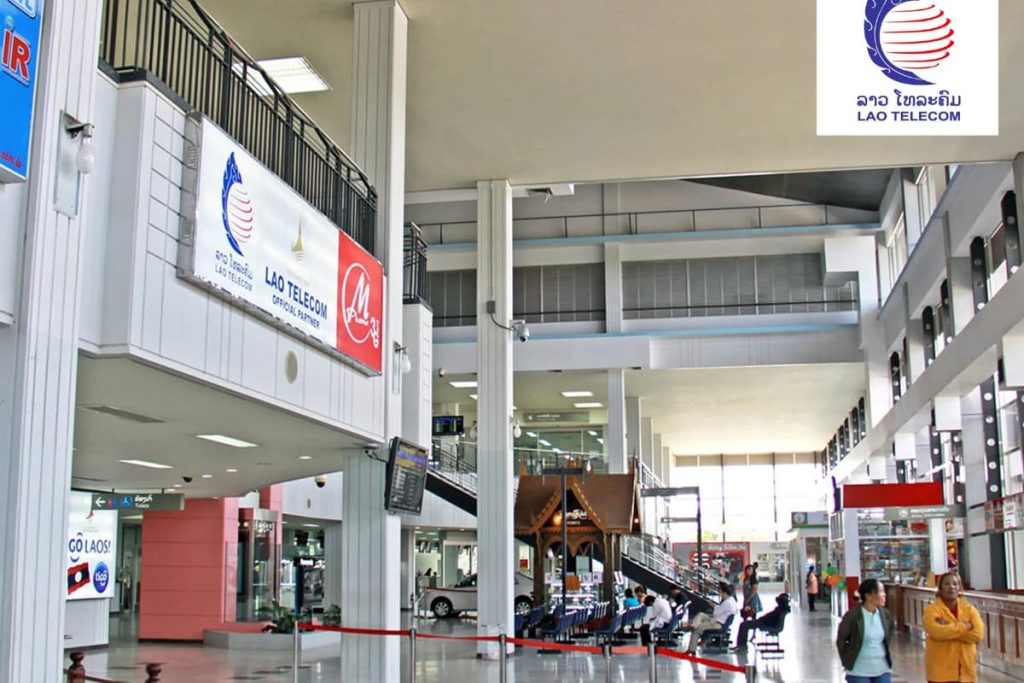 If you're arriving in Laos by air and you want to have a SIM card right away, you can typically find SIM card vendors or kiosks at the major international airports. These vendors often offer SIM cards tailored for tourists and can assist you with the setup process. You can check below:
Wattay International Airport (VTE), Vientiane – Lao Telecom kiosk in the arrival hall near the baggage claim area.
Luang Prabang International Airport (LPQ) – Kiosk located right after exiting customs inspection.
Pakse International Airport (PKZ) – Small Lao Telecom counter within the arrivals terminal.
Savannakhet International Airport (ZVK) – Kiosk is situated landside past the check-in counters.
Dong Khet International Airport (DKH), Houaphan – Counter available airside just outside immigration.
Lao Telecom Stores:
The official stores or branches in major cities, towns and tourists areas. Lao Telecom offers a variety of special tourist and short term SIM plan, so if you want to have more options or you need to ask any question, you can go to one of their stores. Just google map Lao Telecom store nearby, you will get the list to go.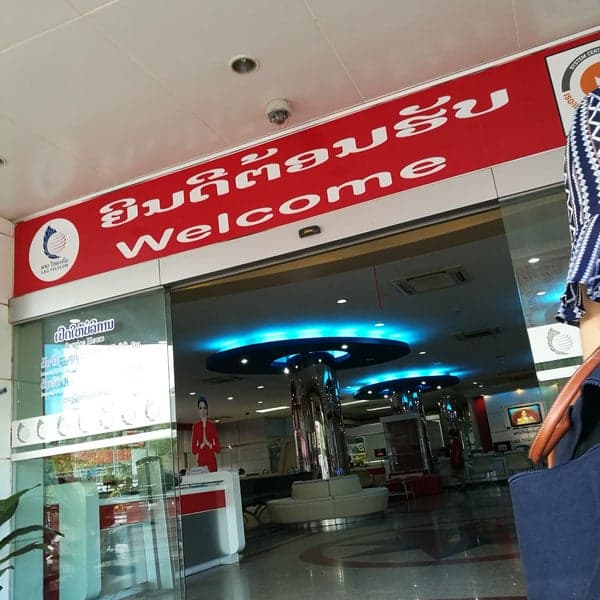 Mobile Phone Shops:
There are numerous mobile phone shops and retailers throughout Laos where you can buy SIM cards. These shops may carry SIM cards from multiple operators, giving you more options to choose from. They are often found in shopping malls, markets, and commercial areas.
Lao Telecom offers tourist SIM card from 10,000 LAK ($0.50) to 25,000 LAK ($1.30)
Before making a purchase, it's essential to ensure that the retailer is authorized and selling genuine Lao Telecom SIM cards. This will guarantee the reliability and compatibility of the SIM card with Lao Telecom's network.
Note: And don't forget to bring your passport when you buy a SIM card in Laos. They might ask for your ID during the registration process. It's also a good idea to compare the different telecom providers to see which SIM card gives you the best deal for data, call minutes, and coverage.
2. Where to buy Lao Telecom eSIM
The best place to buy a Lao Telecom eSIM is to get it online and the best time is before your departure, and voila once you land, you can connect to network.
So visit the laotel.com to register and download profiles remotely using a Lao phone number or ID.
Here are the basic steps to buy a Lao Telecom eSIM online before your trip to Laos:
Go to the Lao Telecom website and click on the eSIM tab.
Select the travel dates and data bundle you need (usually 7-30 day options starting at 150MB).
Receive an activation code on the same or provided email.
Activation code and follow prompts to install eSIM profile.
Once installed, you'll have Lao Telecom connectivity on arrival in Laos.
With pre-activated eSIM, you're all set to enjoy seamless connectivity from day one in Laos.
Or you can also buy it in Lao Telecom Stores. Their stores in major cities like Vientiane, Luang Prabang, Pakse offer eSIM activation and support if you need.
VII. How to Activate Lao Telecom SIM Card and eSIM
It's not too difficult to use a Lao Telecom SIM/eSIM. In case this is your first time using it, you can check for instruction below.
1. Activating a physical SIM card
Step 1: Insert your SIM card: Locate the SIM card on your mobile device
Step 2: Power on your device: Turn on the device and wait for it to recognize the SIM card
Step 3: Activate the SIM card: Once your device is connected to the Lao Telecom network, you may need to activate your SIM card.
Step 4: Set up APN settings if you can not use the eSIM
Step 5: Check your balance and service
2. Setting up an eSIM
Step 1: Install the eSIM
Step 2: Activate the eSIM
Step 3: Set up the eSIM
Step 4: Start using eSIM: Once the eSIM is successfully activated, you can start using for your communication needs.
Please check your detailed instructions below:
VIII. Troubleshooting Lao Tel SIM Card and eSIM
While Lao Telecom strives to provide a smooth experience, sometimes issues may arise. Here are some tips for troubleshooting activation issues with a Lao Telecom SIM card:
Ensure the SIM is inserted properly with the gold contacts facing down and angled into the SIM card tray.
Give the activation time – it can take up to 2 hours to provision after inserting a new SIM. Signal issues may also delay activation.
Check the SIM chip hasn't been damaged – properly inserted SIMs should activate within the time frame.
Make sure the phone's network settings are configured to use the Lao Telecom network. Select the operator name from the list.
Try restarting the phone to refresh the network settings and mobile data connection.
If you encounter any issues during the activation process, don't panic! You can contact Lao Telecom support – dial customer service at 1111 and provide phone IMEI, SIM serial numbers.
IX. How to Top-up Your Lao Telecom SIM card
To ensure ongoing connectivity, it's essential to keep your Lao Telecom SIM card topped up with sufficient credit.
Here are some easy options for tourists to top up their Lao Telecom SIM card while visiting Laos:
Purchase prepaid vouchers: These can be conveniently bought at the airport upon arrival or any convenience/telco stores. Amounts start from 20,000 kip (~$2).
Top up at Lao Telecom stores: Flagship stores are located in major cities and have English speaking staff. Cash, cards or vouchers accepted.
Use the Lao Telecom mobile app: Download before travel, register number and top up seamlessly using an international debit/credit card once in Laos.
SMS/USSD top up: Text your number + PIN + amount to 1000. Or dial *168*PIN# amount#. Eg. *168*1234#20000# Adds 20,000 kip.
💡Note: Keep some spare cash/voucher credit topped up for the duration of the trip for easy connectivity. And remember to regularly check your balance and recharge your SIM card before it runs out of credit to avoid any disruptions in service.
X. How to Check Lao Telecom Balance
To check your Lao Telecom SIM card's remaining balance, there are a few different methods you can use:
1. USSD codes:
Dial the USSD code *122# on your device and press the call button. A message will appear on your screen showing your current balance.
Here is a table that summarizes the USSD codes for Lao Telecom
USSD Codes
| | | |
| --- | --- | --- |
| USSD Code | Function | Instructions |
| *110# | Check Phone Number | Dial this code to check your Lao Telecom phone number. |
| *122# | Check Balance | Dial this code to check your Lao Telecom account balance. |
| 123# | Recharge | Use this code to recharge your Lao Telecom account with a voucher code. Replace with the actual code. |
| *124# | Check Data Balance | Dial this code to check your remaining data balance on Lao Telecom. |
| *125# | Check Voice Balance | Use this code to check your remaining voice balance on Lao Telecom. |
| *126# | Check SMS Balance | Dial this code to check your remaining SMS balance on Lao Telecom. |
| 1111 | Customer Service | Call this number to reach the Lao Telecom customer service for any assistance or queries. |
2. Lao Telecom mobile app:
If you have downloaded the Lao Telecom mobile app, you can open it and navigate to the account or balance section. The app will display your remaining balance.
Here are instructions for checking your Lao Telecom balance via the Lao Telecom mobile app:
Step 1: Log in your account, tap the menu icon (three horizontal lines).
Step 2: Select "Account Info" from the sidebar menu.
Step 3: On the account info screen, you'll see details of your current:
Available balance
Used data
Validity period
Number of free SMS
You can also check individual balances for: Voice minutes, SMS, Data.
XI. Lao Telecom Call & SMS rates
Lao Telecom offers competitive call and SMS rates for both domestic and international communication. The exact rates may vary depending on the specific plan or package you have chosen. Here are some general guidelines regarding call and SMS rates with Lao Telecom:
Call & SMS rates
| | | |
| --- | --- | --- |
| Type of Call | Rate (kip/min) | Rate ($/min) |
| Domestic calls in the roaming country | 1500 LAK | $0.07 |
| International calls | 1500 LAK | $0.07 |
| Calling back to Thailand | 2000 LAK | $0.1 |
| Sending SMS | 1500 LAK | $0.07 |
While Lao Telecom offers call & SMS rate quite reasonable, but a tips is: it can be placed on data-based communication like WhatsApp for more affordable international contact
XII. Lao Telecom Alternatives for Tourists
While Lao Telecom provides reliable connectivity in major cities as mentioned, their coverage is more limited in rural areas. Tourists venturing off the beaten path to remote villages or natural attractions may experience slower speeds or occasional signal drops.
In this case, Unitel SIM card or eSIM plan may be a better suited option. As the largest mobile network operator in Laos, Unitel has the fastest reported download and upload speeds according to tests.
Travelers with eSIM-compatible devices have a convenient option with Laos Unitel – their digital eSIM plans eliminate the need for physical delivery.
Laoesim is considered one of the top providers of eSIM plans connecting to the Unitel network in Laos. This is thanks to several advantages they offer, such as:
A diverse range of plan options to suit different needs and budgets
Competitive pricing that provides good value
Quick and convenient support through WhatsApp, Facebook, and email
Reliable alternative to traditional ETL SIM cards
Let's see our Unitel eSIM plans as alternatives for Lao Telecom SIMs:
Unitel eSIM plans
| | | | |
| --- | --- | --- | --- |
| Plan Name | Data Allowance | Price | Validity |
| Classic 1 Day | 500MB | $1.50 | 1 day |
| Weekly | 1.5GB | $5 | 7 days |
| Monthly Lite | 3GB | $10 | 30 days |
| Monthly Classic | 5GB | $15 | 30 days |
| Monthly Plus | 10GB | $20 | 30 days |
| 3 Month Basic | 15GB | $35 | 90 days |
| 6 Month Standard | 30GB | $60 | 180 days |
Laoesim delivers a quality eSIM experience on Unitel's network through factors like varied plans, affordable prices, and accessible customer service. You can check some their best plan options: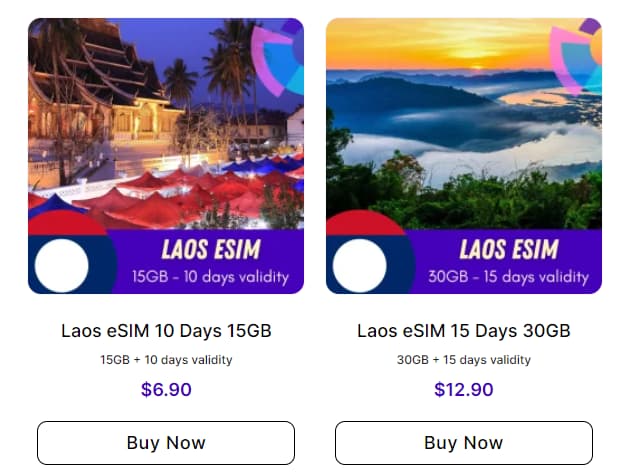 👉eSIM tips: Before getting started with the eSIM purchase, please make sure that your phone is carrier-unlocked and eSIM-compatible. In case you are not sure in this regard, please check eSIM-compatible device list.
XIII. FAQs about Lao Telecom
Can I use my own unlocked device with a Lao Telecom SIM card or eSIM?
Yes, Lao Telecom SIM cards and eSIMs are compatible with most unlocked devices. However, make sure that your device needs to be capable of working on Lao Telecom's network frequencies, and you may need to enable international roaming on your device if it's not from Laos originally.
Is Lao Telecom's mobile data fast enough for gaming
Yes, it's generally possible to playing game online on your mobile internet. The thing is, the quality might depend on how good your mobile coverage is. But overall, it works quite well.
Does Lao Telecom block or slow down any internet service?
Overall, there is little evidence that Lao Telecom systematically blocks or throttles major internet services. As a state-owned operator, they may comply with government requests to restrict access to certain websites/ platforms in rare cases. But don't worry, common internet activities like social media, engines, new sites, streaming work normally without restrictions
XIV. Final words
With good coverage, reliable network speeds, and tailored plans for tourists, Lao Telecom SIM card ensures that you can make the most out of your trip without worrying about connectivity. But you still should consider eSIM is the best choice for short and medium trips around Laos without issues
Go ahead, explore the beautiful landscapes, vibrant culture, and warm hospitality of Laos while staying seamlessly connected.